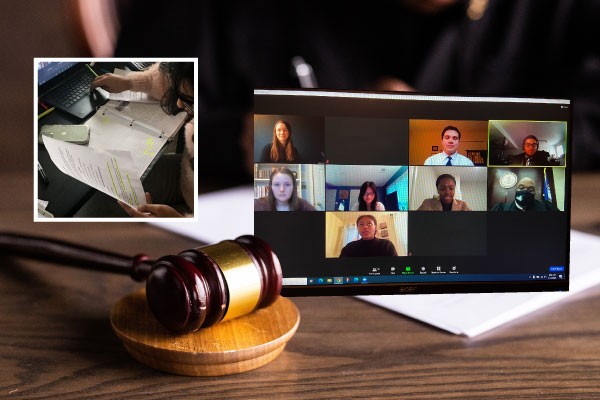 Students from Battlefield, Patriot and Unity Reed High Schools had their day in court, albeit virtually, as they participated in the annual Northern Virginia Model Judiciary Mock Trial event.
Co-sponsored by the Fairfax Bar Association and Virginia YMCA, the Model Judiciary Program introduces high school students to the state's judicial system by teaching them the basics of litigation, and having students participate in mock trials and appellate arguments. In the past, students were on site at the Fairfax Court House for the annual Mock Trial, but this year's trial was held entirely online, much like some real court cases have been tried during the pandemic.
PWCS was represented by students involved in law clubs or mock trial clubs at their high schools. This year, students were asked to prepare to defend or prosecute a manslaughter case. They were responsible for preparing all stages of a real trial, from pretrial motions, opening statements, direct and cross examinations, objections and closing arguments. The students formed prosecution and defense teams and took on roles as lawyers or witnesses. It was a bench trial, so the outcome was determined by a judge instead of a jury of high school students like in past years.
Battlefield High sent four teams, two for the prosecution and two for the defense, to this year's mock trial, and Unity Reed High was represented by one team for the defense and one team for the prosecution. Patriot High has participated in the Northern Virginia Model Judiciary program for the past five years. This year, Patriot fielded 14 teams, seven prosecution and seven for the defense, each comprised of two-three lawyers and three-four witnesses.
Randi Warren, who teaches AP Psychology and Introduction to Law, is the Law Club sponsor at Patriot and has led the efforts to keep her students involved in this program, even during a pandemic.
"The students met every Monday this school year with me to prepare and scrimmage against each other," shared Warren. "The Honorable William Jarvis, District Court judge in Prince William, also met with our student competitors over Zoom to support their learning progress."
Melinda Wong, a senior at Patriot and co-president of the Law Club, has participated in the Northern Virginia Model Judiciary Mock Trial event since her freshman year. She, along with co-counsel Tessa Ryan, also a senior, served as defense-team lawyers and successfully argued a not-guilty verdict in this year's manslaughter case.
"Preparing in an all-virtual scenario was definitely a challenge, but I was extremely lucky to be working with some amazing witnesses and alongside an amazing co-counsel who made the preparations a lot easier," shared Wong. "The lessons you learn while preparing for mock trial also apply far beyond the courtroom: everything from crafting an argumentative essay for English class to how you consume the news. I cannot express how much I have learned and grown from my experience."
Opportunities like mock trials help students to think about career paths and allow students to develop specific skills like public speaking and writing.
Wong is planning to attend University of Virginia as an Echols scholar on a pre-law track, largely in part to her experience with the law club and Mrs. Warren's teaching.
"I've seen myself grow so much as a student, writer, reader, and teammate through law club and the intro to law class, and I really fell in love with being able to craft a narrative and argument around the law," commented Wong.
"I would like to thank Mrs. Warren for the incredible amount of time and dedication she pours into law club to make sure every single student gets the support they need to be successful. She goes above and beyond in every way possible and is an amazing mentor and role model. "
Previous years saw many PWCS mock trial participants move on to an appellate round known as Moot Court in Richmond. The COVID-19-imposed restrictions made that impossible this year, but these aspiring legal professionals were happy to have their day in court.