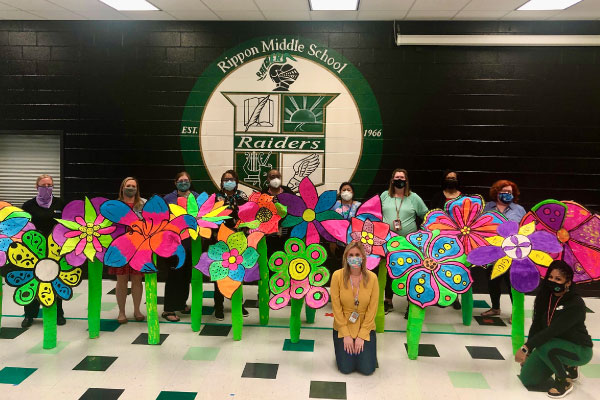 Giant flowers are blooming in the dark-walled cafeteria, creating an atmosphere of spring at Rippon Middle School. Led by Natalie Monnich, art teacher at Rippon Middle, the staff art club created flower sculptures to add a pop of color to the school building.
The students really liked how colorful and big the flowers are. One student remarked on how a flower was taller than him.
The project was a fun outlet for creativity, and also provided staff with the opportunity to collaborate and connect with each other.
"Being able to connect with other teachers and staff through art was an amazing experience!" said Monnich.
The idea for the flower project came from a professional development training organized by Jasmine Hawkins, administrative coordinator for the arts, and presented by Alyssa Tice, art teacher at Kyle Wilson Elementary School.
Staff working together to bring blossoms of beauty to our schools is Positively PWCS!