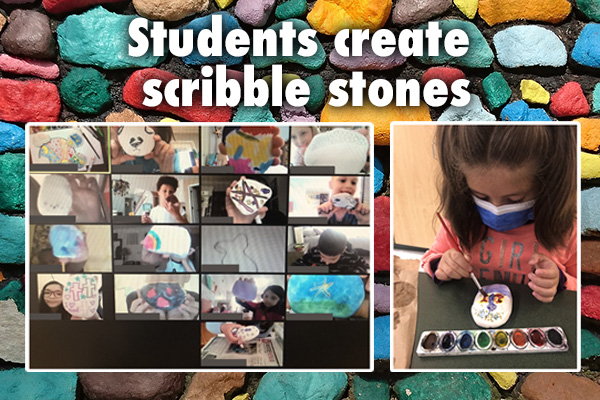 After Coles Elementary School librarian, Lisa Story, read the book "Scribble Stones" by Diane Alber, she reached out to art teacher, Lindsey MacDonald, with an idea for a collaborative lesson. The cross-curricular activity was the perfect opportunity for MacDonald to teach a lesson using clay.
The main character in Alber's story, "Scribble Stones," is a little stone that realizes it has become a dull paperweight. The little stone watches as characters Scribble and Splatter use the paper to create art, but when the creative characters become sad after they have used all the paper, it offers itself as a canvas. The little stone is transformed into a scribble stone. Other stones join in the fun of becoming colorful creations that provide people with joy.
The inspiring story was read to students by Story during their library time, then while in art class with MacDonald, students created their own scribble stones.
"I was worried this year that I would not be able to teach a clay lesson. It would be difficult to coordinate supplies for my hybrid and virtual students. This story was the perfect solution to creating a clay activity that I could teach to all grade levels," MacDonald explained.
MacDonald pre-made a claystone for each student. Virtual students picked-up their stone from school. In-person students used paint to decorate their stones, but because clay is very versatile, virtual students were able to use pencils, crayons, and markers if they did not have paint at home.
Daniel Reid, a kindergartener, said, "Art is my favorite class, because we get to color and now, we get to paint."
"I hope that students realize books can inspire actions and creativity," Story explained.
MacDonald added, "I hope students will realize that art is not limited to a piece of paper or a canvas. They can use materials they find in their home or outside."