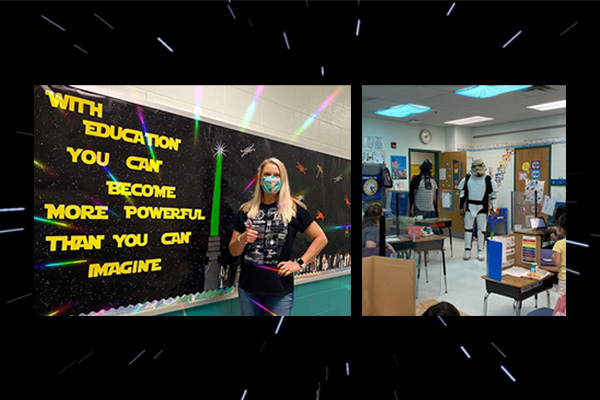 For Teacher Appreciation Week, Cedar Point Elementary School went all out in full force to recognize teachers and staff members in "Star Wars" fashion, thanks to the amazing coordination of Heather Ball, a parent and member of the Parent Teacher Organization (PTO). Each day had a Star Wars theme, starting Monday off as "'YODA' best," sending your teacher a message of appreciation, Tuesday as "May the Fourth be with you," a spirit day to wear your favorite Star Wars character costume, on Wednesday "'LEIA' a compliment," giving teachers and staff compliments all day, for Thursday, "'BB8' a snack," bring a small prepackaged treat to your teacher, and finally Friday, "You 'R2D2' cool for school," a chance for the Thursday-Friday students to dress up in Star Wars gear as well.
For "May the Fourth be with you" day, Principal Mark Marinoble dressed in a storm trooper outfit, accompanied by Assistant Principal Matthew Meyer dressed as Darth Vader. They greeted students at morning drop off and visited classrooms.
To make Teacher Appreciation Week special, Ball took the time to visit local businesses to ask if they would like to sponsor Cedar Point Elementary for Teacher Appreciation Week and contribute gifts to the raffle prize. Every little token of appreciation counts, and even in a tough year for businesses, local businesses donated gift certificates to their restaurants, and Target stocked the refrigerator in the teacher's lounge with a wide variety of beverages. Thanks to the Cedar Point PTO, each teacher received a $15 dollar gift card to Amazon, and a boxed lunch from Jersey Mike's.
Ball has had four students attend Cedar Point, with two fourth graders and a fifth grader currently attending. She had her kids come up with clever names for treats included in gift bags such as "Wookiee-cookies, Luke-lollipops, and Rolo-Solos."
She shared, "I've been so privileged to have my children attend Cedar Point. It's just a great environment, great teachers-I haven't met anyone I didn't like, and they treat your kids like they're their kids. I love planning Teacher Appreciation Week and spoiling people who are so hardworking. I want my kids to recognize their teachers work very hard and to remember to say thank you."