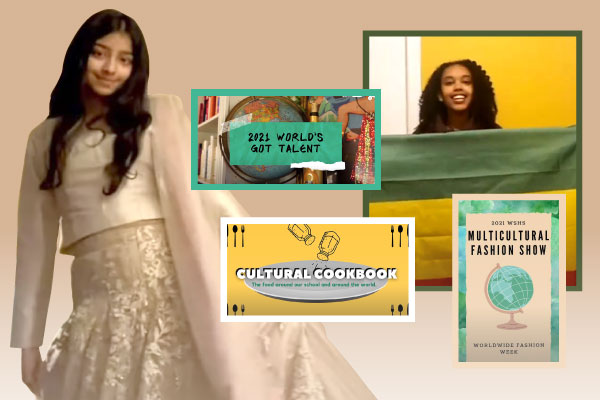 What makes a school unique? It's the students, staff, and school colors, but also the traditions. Due to the pandemic, schools have been adapting their annual traditions, and at Woodbridge High School, a group of students did just that. The Student Activities Leadership Council (SALC) ensured that one beloved tradition was not lost this school year, Multicultural Week.
"[Multicultural Week] is always a big week for students. It's important to them," said Joycelyn Rodriguez, the head of public relations for Multicultural Week. "The event works so well. It's fun to see people's different cultures."
This year's event was available online and named "The World from Home." The community could watch videos and join in on the celebration of culture. It was planned and implemented similar to the past, just in a digital format. Students from SALC divided the responsibilities, and then created seven videos:
Woodbridge Family Dinner, featuring food from around their school and the world.
This Is Us, highlighting places from around the world where members of the Woodbridge community are from.
World's Got Talent, featuring the talents of past and current students.
Worldwide Fashion Week, featuring students in outfits from their family's culture.
Black Lives Matter Awareness Video, featuring the Black Lives Matter movement in the United States.
LGBTQ+ Awareness Video, sharing and celebrating the stories of the lesbian, gay, bisexual, transgender, queer (LGBTQ+) community.
COVID-19 Memorial Video, reflecting on how the pandemic has affected many lives.
Overall, the students overcame the challenges that come with planning an entirely virtual event. They used their creativity and resources to adapt. Some events were the same as years prior, others were discarded, and others were a mash-up of new and old ideas, and that out-of-the-box thinking made the week a success.
While it was all virtual, Marwa Katir, the head of production, found some benefits in this virtual format. She liked the amount of community engagement, especially from students who she believes may not have participated or attended an in-person celebration.
"I enjoyed being able to include the submission of all students who were willing to participate rather than holding our usual auditions," said Katir. "And, I enjoyed being able to remove any barriers to entry that there were with an in-person event and include students who would not have otherwise participated."
While it may not have been the exact same Multicultural Week as years prior, this gesture reminded the student body that even though they may not all be together, they're still a united school community.
"We're still able to connect with each other, and that's important," said Julie Nicholson, the head of philanthropy. "We like to keep putting on events, and we just like to show that we care through them."