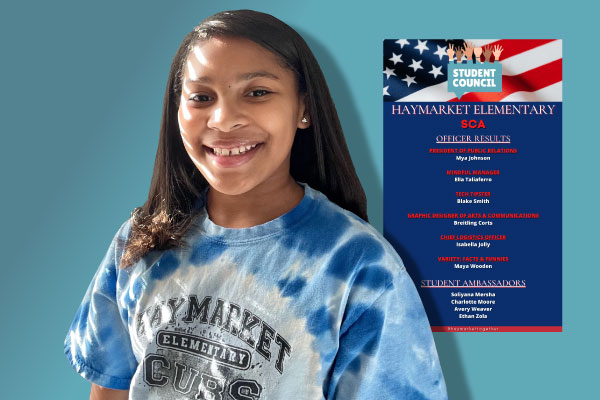 Mya Johnson, fifth grade student at Haymarket Elementary School, earned the respect of her peers and teachers this year at the helm of her school's student council association (SCA). Mya's job as president of public relations is to keep everybody filled in on what's happening at the school and to be the students' voice. She makes sure she is posting her news segments on time, comes up with ideas to help keep SCA flowing during meetings, and ensures everyone stays on track.
Mya also worked diligently to bring about Zoom lunch hours. With the help of SCA co-sponsors Robin Schenck, school counselor for grades three to five at Haymarket Elementary, and Anna Collins-Walker, drama and literacy teacher, these game-filled lunch hours bring everyone together in a social setting. Mya uses this forum to gain ideas and get feedback from students about what they like. Along with Mya's unusual title, president of public relations, the school retooled the rest of the SCA officer roles as well.

"We have seven roles including me," said Mya. "We have the mindful manager; Ella Taliaferro does that and she's going to help us stay calm and focus on our work. We have tech tipster, which is run by Blake Smith; he shows us technology tips and tricks. We have the graphic designer, which is by my classmate Breitling Corts. He's going to help in graphic design and school posters. Chief logistics officer, Isabella Jolly, makes sure SCA's on track and things are posting on time and makes sure we don't fall behind. And then, one of my friends, her name is very close to mine, Maya Wooden, variety: facts and funnies; she tells jokes and does funny news segments for the news show."

Mya campaigned on kindness and connectiveness and always attempts to show how being kind can have a positive impact on others. During an SCA meeting, Mya brought up an idea to have students share teacher shoutout videos to brighten the teachers' days. And, as is customary for Mya, she endeavored to be inclusive by suggesting the Haymarket student ambassadors lead in the sharing.
In addition to the seven officers, SCA includes a team of four student ambassadors whose job is to help with social events and the school reward program. Thanks to Mya's idea, each of the four ambassadors (Soliyanna Mersha, Charlotte Moore, Avery Weaver, and Ethan Zola) has been sharing self-created Flipgrid video shout-outs to teachers during morning announcements from the student group they represent.

"Mya's inclusiveness and poise amazes us with every meeting!" said Schenck. "She's the president of public relations, and typically for the president, you know, the spotlight is on them. What's so heartwarming about Mya is that every meeting and every time she has an idea, she always incorporates others and that just makes everyone feel so special. Not everybody has that quality or skill and Mya just does it beautifully and it makes everybody else feel so valued."

With virtual or hybrid learning as major components of the school year, having a team of leaders that could bring everyone together was more important than ever for the staff at Haymarket Elementary. Their plan to incorporate students into the news show has accomplished beyond what they expected.

"Because Mya has such a knack for making everyone feel included, the teamwork is just beautiful," said Schenck. "These kids have been wanting to do these leadership things for years. We came up with having them on the news show, but what's fun is then they're taking off and coming up with new ideas themselves. It's really fun to see them being excited about being leaders at the school. And now with the young kids here, they watch the news and they look up to the older ones; it's fun to see. This group of leaders really worked together to share the spotlight and enrich others; nobody hogs the attention or tries to steal focus. It is really beautiful to see."