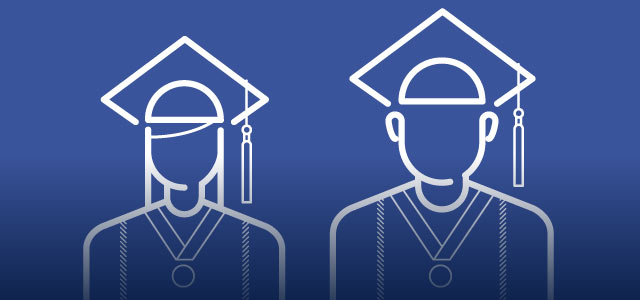 PWCS honored 27 high school students this spring as valedictorians and salutatorians from the 2021 graduating class. From computer science to law, these bright young minds will fan out to seek degrees at major colleges and universities across the country.
Here is an at-a-glance look at the aspirations of the 2021 PWCS valedictorians and salutatorians:
Battlefield High School
Valedictorian, Emmett Charles Hannam
Hannam will attend the University of Virginia's College of Engineering to study computer science. He hopes that he can make life easier and more enjoyable for the people he meets, but also the people he never meets, through his studies.
Salutatorian, Sungbin Yun
Yun will attend Northwestern University to study materials science and computer science. He said, "My favorite feeling in the entire world is when I make people smile and forget about their hardships, even for a while." Whether he ends up becoming a musician or an engineer, he hopes to use his work to touch people's hearts and live as a pillar of support for them.
Brentsville District High School
Valedictorian, Kaitlyn Carolina Warner
Warner will attend the University of South Carolina to study business with a minor in psychology on a pre-law track. She hopes to add some happiness to the world.
Salutatorian, Aidan Christina Driscoll
Driscoll will attend Virginia Polytechnic Institute and State University to study history with plans to become a teacher. Driscoll said, "I want to be the teacher students go to when they have any problems, and for them to know I really care about them as people."
Charles J. Colgan Sr. High School
Valedictorian, Ethan Ta Ky
Ky will attend Carnegie Mellon University to study computer science. With his studies and future career in computer science, he hopes to contribute to disaster response efforts and combat numerous other problems in the world. He would like to promote the use of computer science and related technologies in a variety of fields and contexts.
Salutatorian, Zayvinn Lin
Lin will be attending Princeton University to study mechanical and aerospace engineering. He hopes to inspire the next generation of engineers, like the countless plane rides he took as a child inspired him.
Forest Park High School
Valedictorian, Eleanor Wren Sigrest
Sigrest will study aerospace engineering and computer science at Stanford University. Sigrest said, "My dream is to be the first person on Mars. Throughout my journey, I hope to inspire those around me to follow their passions, especially women in science, technology, engineering, and mathematics (STEM) fields."
Salutatorian, Ghedion Samson Beyen
Beyen will attend Harvard College to study mechanical engineering. He wants to help eliminate the digital divide throughout East Africa and revolutionize Ethiopia through health, transportation, and education reform.
Freedom High School
Valedictorian, Danial Ahmed Butt
Butt will attend the University of Virginia and study computer science. He is currently set on working for the advancement of human rights around the world, with a particular interest in the sectors of online and religious freedoms.
Salutatorian, Hazel Mariella Cartagena Quintanilla
This fall, Quintanilla will attend George Mason University and major in business. Through her studies and future career, Quintanilla hopes to give motivation and an ambition to students to chase their goals, and to make what seems impossible become possible through hard work. She hopes to do this by setting a good example and giving her own advice through her experiences. Also, through her career, she wants to share her experiences and to give back to the community. One way she hopes to do this is by giving students scholarship awards for their hard work and dedication.
Gar-Field High School
Valedictorian, Velan Nagarajan Shanmuganathan
Shanmuganathan will attend the University of Virginia to pursue a double major in media studies and public policy. He hopes to improve people's lives and create a meaningful impact on this world. Specifically, he wants to focus on improving the mental health of teenagers as he believes promoting mental stability is one of the best ways to accomplish his goal of helping people.
Salutatorian, Najieh Ahmed Choudhry
Choudhry will attend George Mason University to study computer science. He hopes to leave a mark in the world by improving medical technologies through the use of artificial intelligence and machine learning.
C.D. Hylton High School
Valedictorian, Wolfgang Andreas Reynolds
Reynolds will attend the University of Virginia this fall to major in biomedical engineering. He hopes to one day bring something to the world that can benefit others or save lives for generations to come.
Salutatorian, Bereket Teklu Tafesse
Tafesse will attend the University of Virginia to study biology. She aspires to help people who grew up in a similar situation as hers (being first generation, child of immigrants, minority, and a woman) achieve what she has and more.
Independence Nontraditional School
Valedictorian, Grant Edward Cadogan
Cadogan will be taking a gap year to focus on artistic projects including opening an online store for his artwork, community theatre, and music composition. He will be applying to theatre conservatories in the fall. He hopes to share with the world insights he has learned through his personal experiences and challenges.
Valedictorian, Kaliah Jackson
Jackson will study criminology at Northern Virginia Community College. She hopes to help the community be a better place.
Valedictorian, Anne Elizabeth Smith
Osbourn Park High School
Valedictorian, Andrea Haneul Rhee
Rhee will attend Boston College and plans to major in applied psychology and human development. Rhee said, "I hope that I will be able to help people feel like they belong because feeling like you have a place in the world is incredibly powerful on someone's will to accomplish."
Salutatorian, Ashish Pothireddy
Pothireddy will attend the University of Pennsylvania's Jerome Fisher Program in Management and Technology to study systems engineering and business analytics. Pothireddy said, "As a student from a developing country with significant pollution issues, I envision a carbon-neutral world, a world I wish to create." With the help of the scientific community, he hopes to make strides in "carbon capture and sequestration technology, creating a world with breathable air for all citizens!"
Patriot High School
Valedictorian, Rishi Anand Sheth
Sheth will attend Johns Hopkins University in the fall to study materials science and engineering with a concentration in biomaterials. By studying at Hopkins, he hopes to use his World-Class education to help individuals around the world with life-saving scientific discoveries.
Salutatorian, Cy Sun Joe Hwang
Hwang will attend the United States Air Force Academy and major in space operations. Hwang said, "After graduation, I hope to commission as a 2nd Lieutenant in the U.S. Space Force, and after my service I hope to work for NASA and actively advance our understanding of space."
Potomac High School
Valedictorian, Elishah NahShon Steele
Steele will attend Virginia Polytechnic Institute and State University to major in computer science and minor in cybersecurity. He hopes to be a beacon for all minority students in high school to demonstrate to them that this achievement is possible.
Salutatorian, Haya Basim Al-Bana
Al-Bana plans to major in Biology at George Mason University. She would like to inspire other women of color to go into the STEM field.
Unity Reed High School
Valedictorian, Ben Trevor Hwanhee Kim
Kim will attend the University of Virginia to study economics, environmental science, and data science. He hopes to help build a sustainable future and improve the world through policymaking.
Salutatorian, Christine Ngoc-Tuyet Tran
Tran will attend Virginia Commonwealth University (VCU) this fall, and plans to study graphic design. Tran said, "I hope to leave a mark on the world by helping others in any way I can through my time, skills, and talents. Graphic design, or the arts, in general, will allow me to use different mediums and what I am passionate about to help myself and others to pursue their own ideas and to put it into visuals. Whether I can be a part of my community or play my part as an individual, I can make people happy and help businesses thrive."
Woodbridge High School
Valedictorian, Aisha Mubashir Khan
Khan will attend Harvard College in the fall. She plans to have a joint concentration in environmental science and public policy and statistics with a secondary in Spanish. Khan aspires to go into public sector consulting for a few years after college before entering law school and pursuing a career in environmental law.
Salutatorian, Peter Jason Benitez
Benitez will attend Stanford University and plans to major in computer science. Benitez said, "I hope to make the lives of first-generation students easier through the creation of new resources and opportunities by spreading the importance of education."