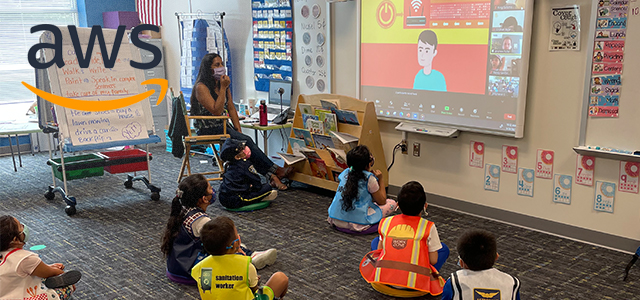 "What do you think Amazon does?" asks Andrew Fuller, a data center technician for Amazon Web Services (AWS) to kindergarten classes at John D. Jenkins Elementary School. Students were familiar with the name and logo of Amazon, and most answers from students included delivering packages. Fuller distinguished how AWS handles incoming orders from customers through their servers, and Amazon's fulfillment centers take care of shipping the orders. He added that Amazon's data centers are places where crucial information is stored.
To make a connection of ways the internet has become integrated into the students' daily lives, Fuller asked what sort of activities they engage in that use the internet. Many responses included streaming services or video games. He then described the different careers in technology such as data technicians, data scientists, network specialists, and computer engineers.
Stephanie Terezon, a kindergarten teacher, emphasized the importance of the internet, stating, "Without the internet, we wouldn't be able to go on our learning platforms, such as Lexia or IXL-or watch a movie on Netflix or Disney+. All those things need the internet, and the data centers give us that internet."
"Data centers are really big buildings that house thousands of computers we call servers. Servers help the internet work. My job as a data center technician means I make sure the servers and the network stays up and running. AWS is a global leader in cloud-based web services, that means we run a lot of servers all over the world," Fuller described to the students.
After his presentation, there was a short activity where students had to use their critical-thinking skills to find the best place to build a wind farm to power a data center. Some of the obstacles the students had to navigate around were placing the wind farm at least one kilometer from homes, away from natural wind "breakers," such as trees, and far away from any bird migration paths or sanctuaries. Virtual and in-person students drew on their worksheet or whiteboards where they would place windmills for a wind farm. After a few minutes, they took turns sharing where they placed the windmills, and their reasoning behind their placement.
After sharing, students were given the opportunities to ask Fuller questions. One of the students asked Fuller, "How do you work at Amazon?" Fuller replied, "There's a lot of ways to get a job at Amazon, there's many roles. If you want to get a data technician role, it would be good to take certifications for different computer sciences, such as hardware certifications or coding certifications. There's many ways, but staying in school is a good way to get a foot in the door at Amazon."
Fuller was the final segment in a career series arranged by Terezon called, "Kinders Can Be." Each Friday, a guest speaker was invited to give a short presentation and answer questions about their career. As the final day for the series, the kindergarten students were encouraged to dress up in what they want to be when they grow up, drawing inspiration from the careers they had learned about.
Virtual students over Zoom twirled in their outfits to show their in-person classmates their costumes of singers, soccer players, doctors, farmers, policemen, and even a veterinarian with a stuffed dog patient.
Terezon ended by leading the students in a chant, "Kinders can be: Anything! And I can be: Anything!"