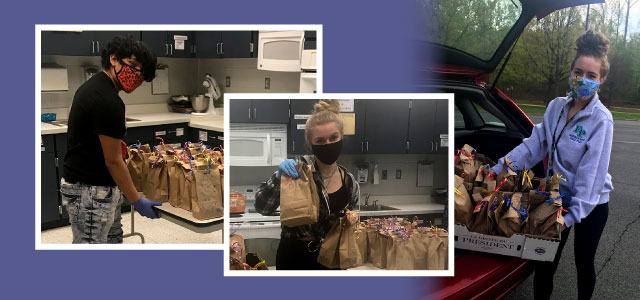 Students in Susan Gonzalez's family and consumer science (FACS) and nutrition courses at Forest Park High School used the knowledge and skills they've learned in class to give back to those in need. After a how-to lesson, students created handmade fleece blankets to donate.
Gonzalez started the blanket project a few years ago. Her students made blankets for families in Puerto Rico who suffered devastating losses during Hurricane Maria. This year, the blankets were donated to a local Action in Community Through Service (ACTS) shelter to facilitate the distribution to those in need.
"My independent living classes and members of our Family, Career and Community Leaders of America (FCCLA) club participate in this activity. Providing people in need with a warm blanket is the kind of community service we love participating in," Gonzalez explained.
This year, Gonzalez was able to overcome the challenge of providing all of her in-person and virtual students with supplies to complete the project. Teamwork was still fostered with virtual students joining in-person students using Zoom. Working together allows students to encourage and help each other while creating the blankets.
Gonzalez's lessons in altruism extended to her nutrition class, where she challenged her students to raise awareness about hunger in the community through various projects.