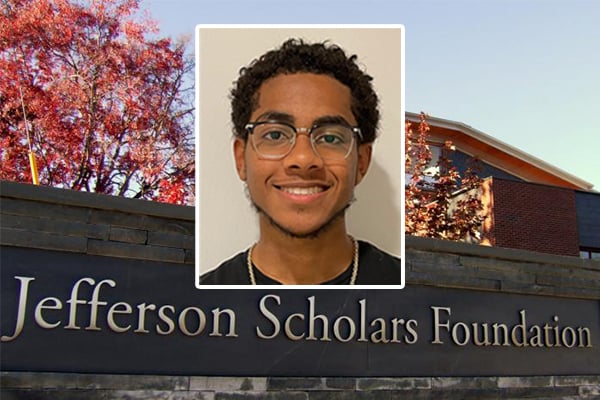 The Jefferson Scholars Foundation at the University of Virginia has awarded Syrell Grier, a senior at Gar-Field High School, with the Jefferson Scholarship, one of the most highly selective merit scholarships in the nation.
The Jefferson Scholars program is no ordinary scholarship, in fact, no students may apply for the scholarship. To say that the selection process is rigorous is an understatement. Eligible schools are asked to nominate the student in the senior class who best exemplifies excellence in the areas of leadership, scholarship, and citizenship. Each year, nominations pour in from across the world. In 2019, over 2,000 students from 41 states and 42 countries were nominated. Once nominated, students are placed into regional competitions and may be invited to participate in one or more rounds of interviews.
Syrell was one of 125 finalists selected, from the more than 2,000 nominations, to take part in interviews and seminar discussions conducted by the University of Virginia alumni and faculty. Based on his performance, myriad of credentials, and outstanding efforts in school, he was chosen as one of the 38 recipients of the 2021 Jefferson Scholarship.
Carrying an impressive 4.66 grade point average, Syrell is scheduled to obtain an International Baccalaureate Diploma from Gar-Field High this spring. Not only is his course load remarkable but he is also an active member of the National Honor Society, the Green Club, serves as a Prince William County School Board student senator, boasts countless service hours and research projects, and has been a member of the Gar-Field boys' basketball and track teams.
Brian Bassett, administrative coordinator at Gar-Field, shared, "What distinguishes Syrell from his peers is his kind and well-mannered demeanor and his positive attitude toward life, while demonstrating the confidence and self-awareness to walk to the beat of his own drum. Syrell Greer is going to do big things in life. He is a bright mind, who is a different kind of thinker that will add tremendously to the University of Virginia community."
The Jefferson Scholarship will not only cover the full cost of attending the university for four years, but it also offers a comprehensive set of enrichment experiences. The Foundation gives scholars the opportunity to network and build relationships, attend the Institute for Leadership and Citizenship, travel abroad, participate in a career development program, establish alumni connections, hear from a host of leadership speakers, and much more.