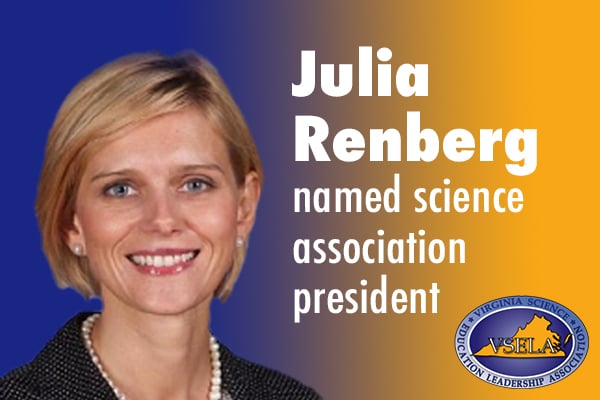 The Virginia Science Education Leadership Association (VSELA) has elected Julia Renberg, supervisor of science and family life education for Prince William County Public Schools, as its next president. Renberg was voted in as president at the 2021 VSELA spring conference, and her appointment took effect immediately. She will serve a two-year term.
"Renberg's extensive knowledge of science education will be an asset to the organization, as she is to PWCS," said Ken Bassett, director for the PWCS Office of Student Learning.
Renberg is also the director for the annual Prince William-Manassas Regional Science Fair and serves on the Virginia Department of Education Science Advisory Board. Her bachelor's degree in biochemistry is from Belarussian State University. She received her master's in curriculum and instruction, with a concentration in English for speakers of other languages, from George Mason University and recently defended her doctoral proposal in education leadership with a minor in special education.
Renberg began her career in education as a middle school life science teacher in Florida. After relocating to Prince William County in 2001, she taught high school chemistry and forensic science, and served as high school assistant principal and as the administrative coordinator for the Center for Applied Sciences, Interactive and Information Technology at Battlefield High School. In 2013, she was named PWCS Teacher of the Year and received The Washington Post Agnes Meyer Outstanding Teacher Award.
"During my term as president of VSELA, I plan on working collaboratively with other district science supervisors, as well as leaders at the state and the national levels, to broaden access and inclusion of all students in STEM-education," said Renberg.
VSELA
is a nonprofit organization dedicated to ensuring excellent science education for all Virginia students. Members of the association include state and division-level science leaders, higher education faculty, and leaders in the science education community.