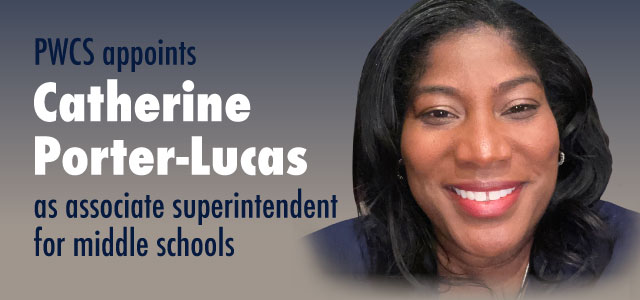 Prince William County Public Schools (PWCS) has appointed Catherine Porter-Lucas as associate superintendent for middle schools. Porter-Lucas fills a newly created role as a second associate superintendent for middle schools, joining William Bixby who also serves in the role. Porter-Lucas has been principal of Gainesville Middle School since 2014.
In this role Porter-Lucas, in collaboration with Bixby, will provide support and direction to the seventeen PWCS middle schools, as well as Porter and Pennington traditional schools, with a total enrollment of approximately 20,000 students.
Porter-Lucas has 21 years of experience in numerous instructional and leadership roles within PWCS. She began her career as a language arts teacher and world history teacher at Parkside Middle School. She subsequently worked as a teacher at Bull Run and Hampton Middle Schools.
She also worked as an administrative intern at Battlefield High School and as a summer school assistant principal at Gainesville and Parkside Middle Schools. Additionally, she held the role of assistant principal at Battlefield High from 2009 through 2014.
Porter-Lucas holds master's degrees in educational leadership from Mary Washington University and in middle education grades 4-8 from James Madison University. She also holds a bachelor's degree in sociology from the University of Virginia.