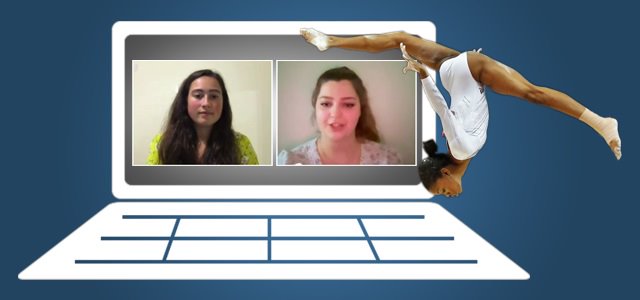 The Woodbridge High School Student Activities Leadership Council virtually hosted this year's National Student Council Conference. The conference included a question-and-answer session with former Olympic gymnast, Gabby Douglas. Woodbridge High students, Marwa Katir and Harrison Kelly, were able to ask Douglas a series of questions about leadership.
"How do you deal with all of the pressures and expectations that are put on you?" asked Katir.
"I try to heal my mind and my body," revealed Douglas. "I have releases like skateboarding, but also reflection time. I love to reflect. I have lots of teas and I just have teatime with myself to sit and reflect."
The National Student Council encourages student leadership, student service, student voices, and student engagement. Their goal is to promote and support student councils in every high school and middle school in the country.
The annual National Student Council Conference is a several-day event that includes presentations, workshops, think tanks, and keynote speakers for student council members. The 2021 event was offered virtually and took place on June 22 to June 25. All student council members from any school district were invited to participate.
"Over 650 student leaders and advisers from around the country attended this year's event," explained Ann Postlewaite, director of student leadership and communications of the National Association of Secondary School Principals. "We also had a school from Guam, the Virgin Islands, and the Netherlands in attendance."
This year's event was hosted by the Woodbridge High School Student Activities Leadership Council. Woodbridge competed nationally for the honor of this distinction.
"Schools apply to host the conference at their school," said Postlewaite. "Woodbridge was a great venue. They have a strong leadership program and a dedicated group of adult and student leaders who were eager to host even when the conference went virtual."
Woodbridge council members presented to other students across the nation and internationally by serving as the daily emcees and moderators. In addition, several of the workshops were hosted by Woodbridge students, such as Jocelyn Rodriguez, Thomas Tafe, Galila Soliman, and Adriana Vasquez. Their workshop, "Being Inclusive through Digital Citizenship," demonstrated to other students how to practice being an ambassador through social media.
The staff of Prince William County Public Schools (PWCS) was also featured at the event. Heather Abney, principal of Woodbridge, provided some of the closing remarks for the first day of the conference. Hamish Brewer, principal of Fred M. Lynn Middle School, served as one of the keynote speakers during the second day.
The National Student Council Conference served as a reminder that the students and staff of PWCS are inspirations and examples to the rest of the world.