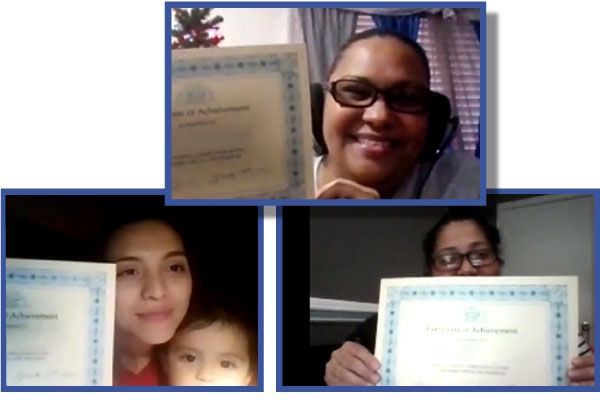 Over the course of eight weeks, 15 Yorkshire Elementary School parents took part in virtual classes two days per week, with more than half completing the requirements of the Prince William County Public Schools English for speakers of other languages (ESOL), Parents as Educational Partners (PEP) Program. The PEP program is designed to assist parents of English language learners in overcoming the language and cultural barriers that may prevent them from participating fully in their children's educational experience.
The primary focus of PEP is providing parents with the knowledge to feel comfortable in using the English language to communicate with school personnel. This year's agenda covered topics on the U.S. school system, school personnel and procedures, parent-teacher conferences, report cards, curriculum, health, and how to build relationships within student's families.
"It took a lot of preparation and time to plan and prepare materials for the virtual setting, but the work definitely paid off. I wanted to make sure to hold classes that were both informative and engaging so I made sure to include games and online activities such as Nearpods to keep the classes interesting," said third grade teacher Winter Gannon.
Gannon introduced class participants to new units including the use of Canvas, Zoom, and ParentVUE, as well as health procedures and protocols designed to keep students and staff safe while inside the building. During one segment, school nurse Nicole Wilson summarized and demonstrated the use of face coverings, proper handwashing, and the importance of physical distancing.
Each class has an instructor and interpreter to accommodate a culturally diverse community. Yorkshire Elementary uses a two-level approach for the program. Level one students focus on the basic construction and usage of simple words and phrases in English that relate to the school environment. Level two builds from what parents learned during level one, allowing them to practice conversation and writing skills. As a result, parents are able to practice mock parent-teacher conferences, review example student report cards, and practice writing notes to the teacher and main office staff regarding excused and unexcused absences.
"Having parents attend classes two times a week helps them get familiar with the staff, the system, the English language, and many of the resources we offer. As a result, parents are better able to successfully implement concise communication with teachers and administrators, empowering them as advocates for their child's education," shared parent liaison and PEP interpreter Roxanna Chappell.