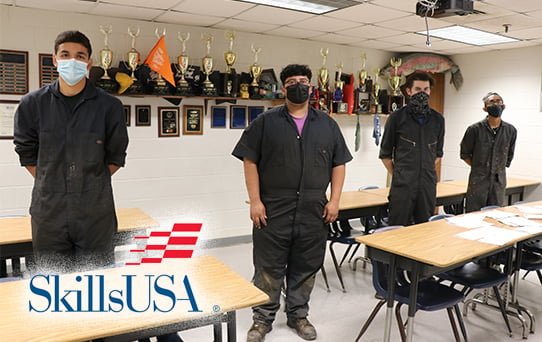 C.D. Hylton High School automotive technology student Jonah Smith earned a national bronze medal in the SkillsUSA national competition. He, along with his classmates, also earned first place in the SkillsUSA state career competitions. This year due to COVID-19, the competitions were a combination of virtual and written skills tests.
Congratulations to the following winners:
Alejandro Galeno - Collision Repair Technology
Erik Joya - Automotive Service Technology
Audi Quinteros - Maintenance and Light Repair
Jonah Smith - Motorcycle Service Technology
The winners also received scholarship money for their post-secondary education. Joya, Quinteros, and Smith have been employed by local car dealerships for over a year. Quinteros, Smith, and Galeno will attend trade schools in the fall, and Joya will continue working at the car dealership.
Hylton High's automotive technology teacher, Ed Stevens, is impressed with his four students and shared, "They would not be where they are now without their great work ethic and dedication."
SkillsUSA is a nonprofit national education association that helps prepare students for careers in trade, technical, and skilled service occupations.