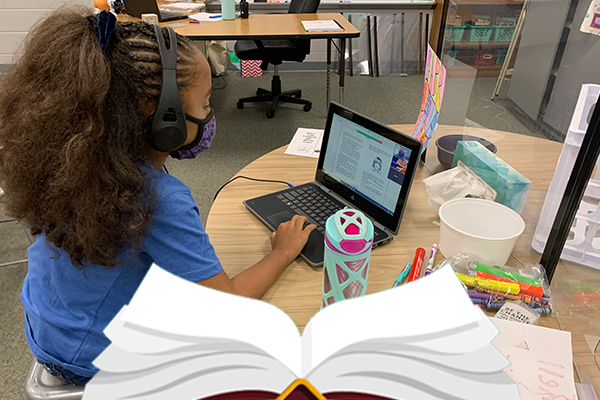 Allison Scott, a fourth-grade teacher at Marshall Elementary School, is succeeding at cultivating a classroom culture. The Reading Accountability Partners book club is Scott's most recent activity that brings together roomies, a name given to students attending class in-person, and zoomies, students who join class virtually.
Using Wixie, a digital project tool, and Bitmojis, Scott created a virtual classroom for students to visit. In the classroom, students select a book and review a description and a short teaser video. Then they pick two favorites from the four options including, "Ramona Quimby, Age 8" by Beverly Clearly, "The Sisters Grimm: The unusual Suspects" by Michael Buckley, "Ungifted" by Gordon Korman, and "Finding Langston" by Lesa Cline-Ransome. All of the books are on Epic, a free digital library.
Scott then partners the students based on their book choices and personalities. Every school day, for 20 minutes, students meet on Zoom during class to read the book and complete comprehension activities together.
"Having the roomies and zoomies collaborate on this project builds our classroom culture. Working with a partner helps students to build those communication and collaboration skills needed as a 21st century learner," Scott explained.
The program has received positive feedback from students. "I really like the book club because I am getting better at reading to people," one student explained. Another student said, "I love the book club because I got to choose a book I really like. I love working with my partner, because he is very cooperative."