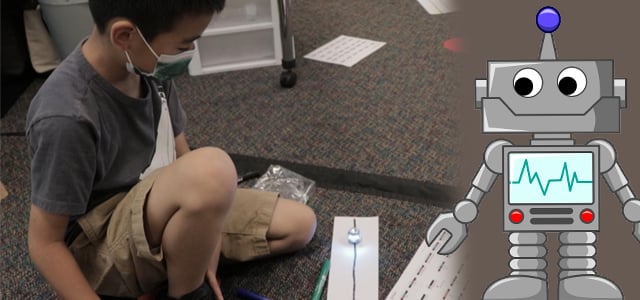 Christine Thai-Pappa is a National Board Certified third grade teacher at Chris Yung Elementary School. She and her colleagues are always looking for science, technology, engineering, art, and math (STEAM) inspired ways to engage their students. One way they do that is with Ozobot. Ozobot is an award-winning robotic platform that teaches coding and STEAM across multiple subjects. It uses a small programable robot that reads line codes students create to control the robot. Thai-Pappa and her team use these robots and coding in math, science, and language arts.
"Coding is the language of the future and that it is critical for students to learn coding from an early age." said Thai-Pappa.
Part of the learning process is that students will not always get their code correct the first time to control the robot. Thai-Pappa believes this helps the students learn the importance of failing, reevaluating, and trying again. She stated, "I have seen it bring success to learners who may struggle in other academic areas and build self-confidence."
Ozobot has an educational division where teachers can become Ozobot Certified Educators. Thai-Pappa and some of her fellow teachers have become certified. Thai-Pappa has helped develop Ozobot lessons and presented these lesson ideas to fellow educators, participated in focus groups, and Twitter chats. Because of her commitment to education and her students, Ozobot recently named Thai-Papp their educator of the month.
"Having Ozobot recognize that I have a passion for helping kids learn this way was the best part of this honor, shared Thai-Poppa.