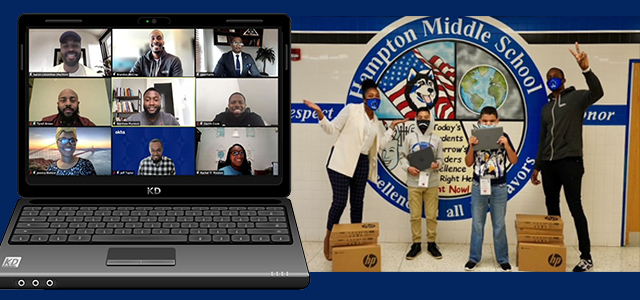 What at first appears to be a typical Monday afternoon Zoom session with students is actually a special discussion between technology leaders in the community and students at Hampton Middle School. The technology leaders are members of The People of Color Philanthropy Committee at Okta (POC@Okta), a group dedicated to providing underrepresented communities with resources necessary to survive and thrive in modern society.
"We are providing students with exposure to the tech field, a field that is not as heavily advertised in underrepresented communities," said Brandon McCray, a member of POC@Okta. "We want these students to have the same access to diverse career possibilities as their peers in more privileged communities."
During the Zoom session, members of the committee shared their perspectives on careers in technology and related the challenges they faced as a people of color in the technology industry. Students asked questions and received valuable tips and advice from the technology leaders.
"We want the students to walk away feeling empowered and informed. It is my belief that when students see successful people who share similar backgrounds in life to theirs, that those students are more likely to feel empowered to succeed," shared McCray.
Rachel Preston, an assistant principal at Hampton Middle, invited students from Unity Braxton Middle School to join the discussion as well.
"Unity Braxton Middle is an International Baccalaureate school, and we thought this would be an excellent way to connect our two schools," said Preston. "We are looking to continue to partner on initiatives and share resources for the benefit of our students."
After the discussion, students received a generous donation of 30 laptops from POC@Okta for their personal, at-home use and to support their technology needs and goals.
"Our goal here is to even the playing field for the future success of middle schoolers in underprivileged communities," said McCray. "By providing these students with laptops, we bring them one step closer to a fair starting point."
"I am always looking for ways to bring new and innovative opportunities to the students at Hampton and thought this would be an amazing opportunity to educate our students and provide much needed technology," added Preston.