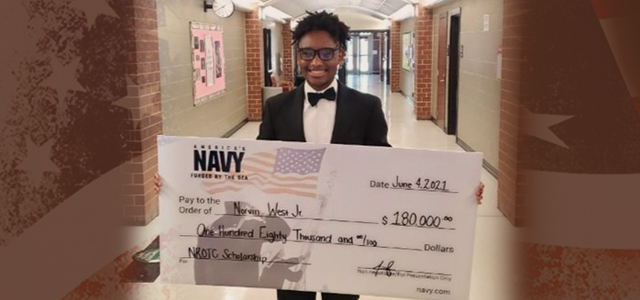 Norvin West Jr., a recent graduate of Charles J. Colgan Sr. High School, has big plans for his future. Those plans include finding a cure for epilepsy, founding a non-profit dedicated to healthcare accessibility, spreading awareness about the lack of minorities in healthcare, and providing healthcare to the homeless.
Before he does any of that, West will first attend Yale University to study neuroscience with plans to attend medical school to become a neurosurgeon.
To help him with those plans, both the Navy and Yale offered West financial incentives. Yale offered Westa financial aid award to fully cover tuition, room, and board. The Navy offered him a $180,000 Reserve Officers' Training Corps (ROTC) scholarship to commend his outstanding student leadership and academic achievements as a student at Colgan High.
West chose the Yale award but spoke highly of his prestigious Navy ROTC scholarship selection. "It was a blessing and honor to have been recognized in the award ceremony and by the Navy itself," he said, adding, "It was quite honestly an experience I'll never forget."
While at Colgan, West was president of the Math Honor Society, treasurer of the Science National Honor Society and student council, and member of the National Honor Society, varsity football team, and symphonic orchestra.
"Norvin is an extremely well-rounded student," said Erin Flaherty, a school counselor at Colgan. She credits West's motivation and drive to help others as a major factor in his success. "Norvin dedicated much of last summer to working alongside a doctor at George Mason University researching epilepsy," she said, adding, "He has also found passion in working with a microbiologist to research prostate cancer killing vectors and COVID-19 resistant cells."
West hopes to use the generous financial offer from Yale to help make his goals a reality. "I believe that with hard work and determination anything can be accomplished," he said. "I am simply a young man who has a deep curiosity and fascination with the world around me, and who is striving to make a positive impact on the world of neuroscience and medicine."