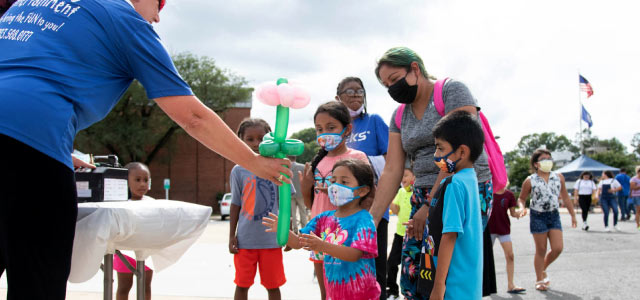 Most of the time, when you pull into a school parking lot, you normally see parked cars and school buses. However, at two recent community events held at Rippon and Unity Braxton Middle Schools, the parking lot was filled with food trucks, parents, students, and school staff enjoying an evening of community engagement.
Prince William County Public Schools (PWCS), in partnership with SPARK, the education foundation for the School Division, hosted the events. Families from Rippon and Unity Braxton were invited, as well as families from the feeder elementary schools for each middle school. Families had the opportunity to meet staff and families from the various schools in attendance and the new Superintendent of Schools, Dr. LaTanya D. McDade.
"I am excited to meet so many families, students, and staff," shared Dr. McDade. "Listening to parents, caregivers, and community members is vital as we chart PWCS' path to academic achievement."
Attendees enjoyed food from various food trucks, and entertainment provided by magician Mike Hummer, also a substitute teacher for PWCS, balloon artist, Carol Turman, DJ, and photo booth. Families also received free grocery kits from the Combating Hunger on Wheels (C.H.O.W.) Wagon and school packs donated by the Staples store in Manassas totaling $7,000. Free information on resources were available from INOVA Partnership for Healthier Communities, as well as PWCS Department Human Resources. Other sponsors included Omega Psi Phi Fraternity, Inc. - Pi Lambda Lambda Chapter, Spell It Out Prince William, and Virginia American Water.