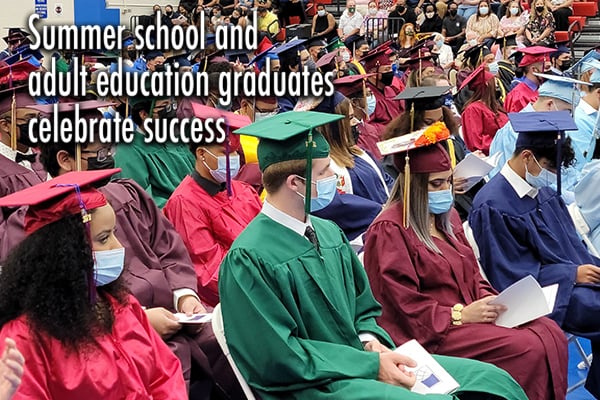 Perseverance and determination paid off for students who received their high school diplomas and certificates at the PWCS Adult Education and Summer School graduation ceremony held recently. Their accomplishment is a testament that PWCS programs are a launch pad for anyone who is willing to persevere.
The commencement ceremony was held at Gar-Field High School and included student graduates of the division's 16/17-year-old GED/ISAEP, National External Diploma, Adult Education, and Summer School Programs. Emotions ran especially high this year as the more than 200 graduates prepared to cross the stage and turn the tassels on their caps.
To the standard academic challenges of most, these students add complicated life circumstances or the hard-fought discovery that they learn better in less traditional settings to reach this triumphant event. Add to that the challenges that the pandemic brought with it, and it becomes evident theses students' personal stories reflect a firm commitment to overcome diversity and succeed.
In her first commencement address as PWCS Superintendent of Schools, Dr. LaTanya D. McDade underscored the message that challenges are surmountable with perseverance and that continued learning, pushing your boundaries, and looking out for yourself and others will help you achieve your dreams.
"I am very excited to congratulate you and be a part of this once-in-a-lifetime send off," she said. "You should be commended on pushing through this very difficult time to achieve this important milestone and I am also very aware that this pandemic may not have been the only challenge for you. But no matter the challenges, you are here. I applaud all of you for that self-advocacy and perseverance and hope you will continue to flex those muscles as you navigate the next chapter of your lives."