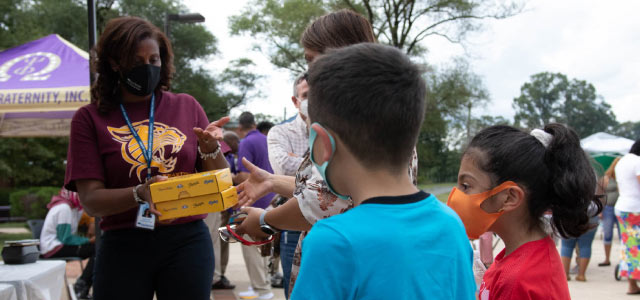 Dear PWCS Families,
We are excited to welcome our students back to a new school year on August 23.
While we all hoped the pandemic would be behind us by now, we continue to face challenges due to COVID-19. I understand your concerns and want you to know we are paying close attention and that we are going to follow the guidance from the CDC and the Virginia Department of Health in order to maximize learning and minimize disruptions. Your students' safety is my top priority and will remain top of mind for everyone across Prince William County.
This school year is about re-engagement, recovery, and acceleration. Our reopening strategy is guided by three core principles:
Prioritizing Safety by putting in place robust health and safety protocols for staff and students.
Maximizing Learning by providing challenging and engaging learning experiences every day.
Promoting Equity by ensuring every student has access to the support they need for a safe return and the opportunity to thrive in their learning.
In-person learning environments are best for children to grow academically, socially, and emotionally. This is critical for their development - and for their future. We appreciate your partnership and patience as we work together to maximize learning and minimize disruptions to this learning brought by the pandemic. Here are some of the processes we are implementing to achieve this:
Masking requirements for students, employees, and visitors aligned to Virginia Department of Health's Public Health Order.
Frequent cleanings to ensure high-traffic, high-touch areas are disinfected regularly as well as routine daily cleaning of classrooms.
Encouraging hand washing and provision of hand washing soap and hand sanitizer for students by the school.
Maximizing physical distancing to the extent possible and minimizing time students are unmasked and/or less than 3-6 feet apart.
We ask that families not send their child to school if they have COVID-19 symptoms. Please use the daily self-screener on our website.
We encourage all eligible individuals to receive the COVID-19 vaccine as the best means to help mitigate COVID-19.
Quarantine may be necessary for students and staff in certain situations. PWCS staff will follow the processes and protocols supporting the Prince William Health District in COVID-19 case investigation.
For more details on quarantine and health protocols please visit our Health/Mitigation Frequently Asked Questions on our website.
Schools will be staffed to support student mental health with counselors, social workers, and community partners available for students.
Visit our Back-to-School webpage for more details.
I look forward to meeting many of you over the coming months. Listening to parents, caregivers, and community members is vital as we chart Prince William County Public Schools' path to academic achievement. I appreciate the trust you have placed in me to ensure that your child is thriving. As we look to this year, I feel hopeful that we are all in this together - on behalf of all students.
Best wishes for a successful school year,
LaTanya McDade, Ed.D.
Superintendent of Schools