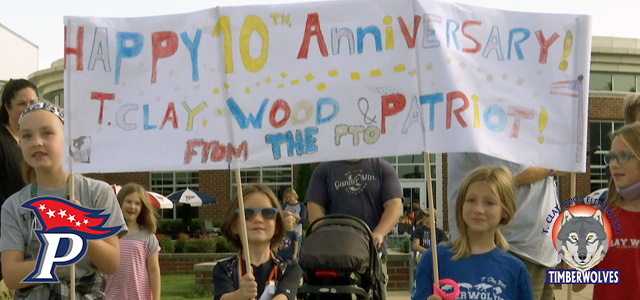 On September 6, 2011, T. Clay Wood Elementary School and Patriot High School opened their doors to students for the first time. On September 10, 2021, the community, students, and staff from these two schools came together for a celebration of the first 10 years.
The evening kicked off with a parade led by the Patriot High marching band, dance team, and cheerleaders as well as local first responders.
Attendees also enjoyed the carnival, sponsored by various Patriot student clubs and groups, and the "Taste of the Town" event with local food vendors set up next to the stadium.
And, under the "Friday Night Lights" that evening, the Patriot football team came from behind to beat Forest Park High School.
What will the next 10 years hold for the two schools?
Dr. Andrew Buchheit, principal of T. Clay Wood Elementary School, shared that they will, "Keep building on our success. We are going to do better and better and make sure students are learning to their fullest potential."
Patriot High School Principal Dr. Michael Bishop is also excited about the future. He added, "I anticipate that every kid that comes through here is going to go on and do something great!"