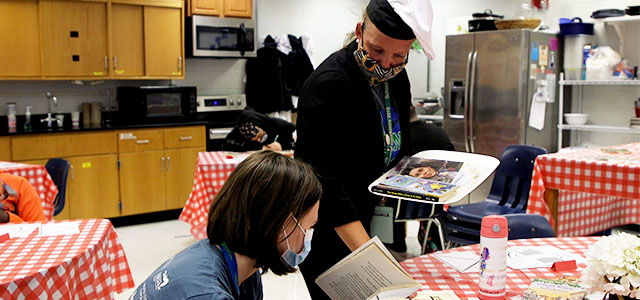 The A-Street Bruins, a special group of students at Forest Park High School, recently needed a reservation to enter their fourth-period classroom. That's because their teacher, Ashley Tayon, transformed their classroom into a café, complete with tables decked out with restaurant tablecloths, flowers for ambience, and paper place settings.
It was all part of Tayon's sixth annual book-tasting event designed to help her students learn about book genres and discover which ones they loved the most.
"Any time I can dress in a costume or transform my classroom into a different atmosphere, it just elevates the learning process," said Tayon.
Tasting refers to students reading small portions of a book to determine whether the genre appeals to their reading interests.
As students finished sampling their book, Tayon walked around the classroom dressed as a chef holding a platter of books ready to offer students their next book-tasting.
"It goes to the saying of not judging a book by its cover. A student might not read a book because of its cover, so it allows them to open it up, read a page, and see if it's an interest of theirs or not," Tayon explained. "As Dr. Seuss says, 'The more you read, the more you know and the more places that you'll go,' and that is exactly what I'm trying to do here throughout this book-tasting."