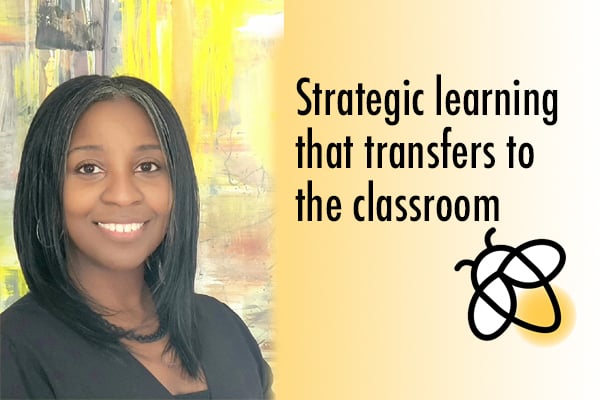 Lumio™ has recognized Moneka Lyons, training specialist in the Office of Instructional Technology Services, as one of only 27 SMART Innovators in the U.S. and 78 worldwide. Lyons is focused on providing teachers with educational strategies using technology products from Lumio (formerly known as SMART Learning Suite Online).
"Moneka has run three cohorts and is always thinking ahead to see how our partnership with SMART can help support our teaching and learning initiatives," said Diane Harazin, supervisor of instructional technology services. "This is a very special honor that she made happen through her dedication, passion, and ownership of this project."
Once trained, PWCS educators use this collection of tools to deliver student lessons, activities, and assessments, and to build collaborative online workspaces. With this technology, when students are doing an activity, they can interact with each other, and the teacher can see that. It moves kids from passive to active learning, where they can participate and demonstrate their understanding in real time.
Last year, when the pandemic disrupted in-person teaching, PWCS looked to cloud-based software such as Lumio for virtual learning options. The school division partnered with Lumio to develop a professional development cohort that has provided training to 112 teachers to date. These SMART Ambassadors from across all PWCS schools participated in five months of professional development, learning how to create equitable, personalized, experiences for their students. As a result, teachers were able to implement the strategies from the training into their classrooms, increasing student participation and learning.
Lyons joined PWCS in 2016 as a business education teacher in the Career and Technology Education program after a decade in the corporate world, both in the Northern Virginia area and Chicago. She explained that interwoven through all she does is mindfulness and equity. In her experience, making time for true listening can be a key challenge for educators.
"I knew working in the career field of education full-time, as opposed to corporate contracts/procurement management, was what I'm supposed to do," Lyons shared. "However, a key challenge I've experienced over my 18 years working in education is that we sometimes don't practice active and reflective listening. If we can listen and approach pedagogy with a lens of seeking first to understand the whole student or whole staff member, it can shift the atmosphere in our respective classrooms and offices. I love SMART Learning! It provides such personalized, equitable learning for our students."