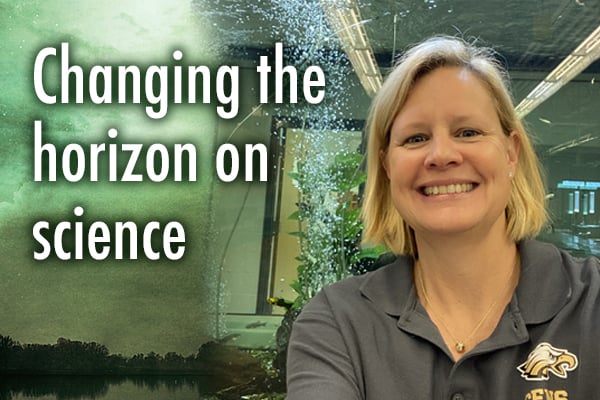 Dr. Jessica Doiron, Freedom High School's coordinator for the Center for Environmental and Natural Sciences (CENS) specialty program and a biology instructor at the school, is among
66 U.S. educators selected by the Society for Science
to serve as an advocate for students who are typically underrepresented in science research competitions. The advocate's role is to encourage and support underserved students to enter their projects in science, technology, engineering, and math (STEM) competitions. The Advocate Program provides training, stipends, and year-round support to mentors supporting underrepresented and low-income students in entering science research competitions.
Dr. Doiron shares the goal for Freedom High will be to create a program that promotes independent science research projects that give students the opportunity to understand the process of science. This includes helping them develop critical-thinking skills and encouraging creativity and exploration of their individual interests. Dr. Doiron looks to increase Freedom High students' exposure to different science disciplines and careers.
"Freedom is a Title I school with an extremely diverse population," said Dr. Doiron. "Only 16 % of our students report English as the first language spoken at home, with the majority reporting Spanish as the first language. This population of students is typically underserved and underrepresented, especially in STEM. I want to show these students that what they thought was impossible is possible, research opportunities do exist, they are competitive, and they can succeed."
Prior to joining Freedom, Dr. Doiron taught in the community college setting for over 15 years. Her background is in biology, ichthyology, and ecology. Since this will be Freedom's first year in the program, she is keeping her goals realistic.
"By entering projects into competitions, students gain self-confidence, the ability to turn learning into real science, an increased understanding of the scientific method, and the chance to receive recognition for achievement," said Doiron. "I am very excited to be a part of the Advocate Program."