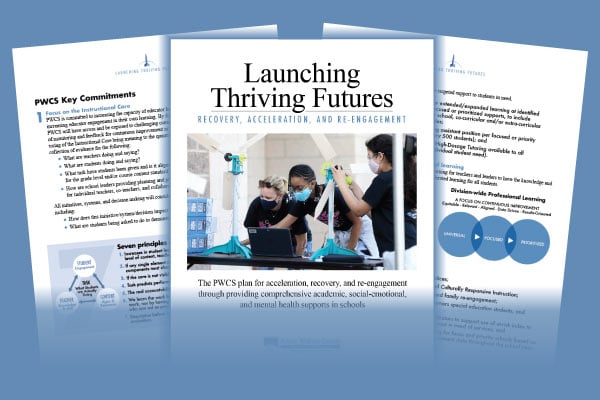 Prince William County Public Schools (PWCS) has released an updated comprehensive Unfinished Learning Plan. The plan focused on acceleration, recovery, and re-engagement to provide comprehensive academic, social-emotional, and mental health support in schools.

This plan highlights the efforts made by the Division to measure the impacts of COVID-19, school closures, and sustain virtual instruction to PWCS students. This plan meets the needs of individual students by following a formula that equitably distributes federal resources that support acceleration, recovery, and re-engagement for student learning.

The American Rescue Plan Act of 2021 (ARPA) provides additional funding to school systems to support unfinished learning efforts. PWCS is eligible for approximately $88 million in ARPA funding with an additional $4.8 million in Title 6B ARPA funding. The Division was required to submit an application to the Virginia Department of Education by September 1, 2021, to be eligible for these funds. This legislation also requires the Local Education Agency (LEA) to use 20% of their formula funds from ARPA to address learning loss/unfinished learning. PWCS has developed a comprehensive plan that will utilize approximately 78% of the PWCS formula funds to address learning loss/unfinished learning, or nearly $72 million of the total amount available to PWCS.

Given the research that highlights the disparities of COVID-19 and its impact on our most vulnerable learners and student populations, PWCS designed a resource allocation process to provide additional resources, supports, and services to meet and/or exceed the specific academic and social-emotional needs of all students including our advanced learners. The process includes a focus on student groups that were disparately impacted by the pandemic such as students with disabilities, English Learners (EL), and students who are economically disadvantaged.

Beyond these investments toward addressing unfinished learning, we have utilized ARPA funding to support the hiring of summer school teachers, thus giving our students summer school opportunities. This includes Extended School Year (ESY) services for students with disabilities and focused instruction for our English Learner students. The Division will also utilize approximately $11.3 million of the ARPA funding for the virtual programming for our virtual-only students at all levels.