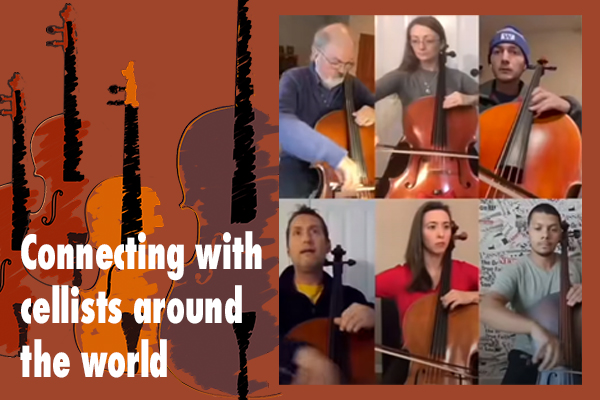 It's tough when a musician is unable to perform, so when Taryn Wood, strings teacher at Woodbridge High School, saw videos of cellists virtually performing together during the pandemic, she knew she wanted to join. Soon thereafter, Wood discovered the Global Cello Project and became a part of a worldwide cellist community.
The
Global Cello Project
, started by Austin musician Tony Rogers, is an online recording project created for cellists of all abilities and all cultures. Rogers arranges the music, consisting of both classical and non-classical pieces, and then shares the parts with interested cellists around the world. These musicians then record their part individually and send them to Rogers who edits them together into one video.
"This project fed what we [the musicians] needed," said Wood. "One of the worst things for a musician is to not be able to perform. Virtual performances were not a replacement, but it was a good opportunity to make the best of the situation."
It's proven to be a fun and challenging project for Wood as she used the opportunity to stretch herself as a cellist. She chose to record more difficult parts to both improve her craft and become a better musician for her and her students.
While this project allowed her to keep performing, even if only on a virtual stage, Wood also gained valuable skills and knowledge regarding performance to bring back into her classroom at Woodbridge High.
"I wanted to use the same ideas at Woodbridge," said Wood. "We talked about [the project] and its creation in class, and then, when we did our own virtual performance, I used the same procedure."
Even more so, Wood used the Global Cello Project to bring joy to the Woodbridge community. She recognizes the importance of the arts and the great role they play in our society, especially throughout the pandemic, so she continued to share the performances with her student musicians, the Woodbridge administrative team, and other members of the school community.
"The arts are what keeps us hopeful. Think about what people turned to when quarantine started," said Wood. "When we [musicians] stay engaged, it brings us joy, and then we can also bring joy to others."
The
Global Cello Project
is still on, and Wood is continuing to participate. To view the latest performances, visit The Global Cello Project homepage.