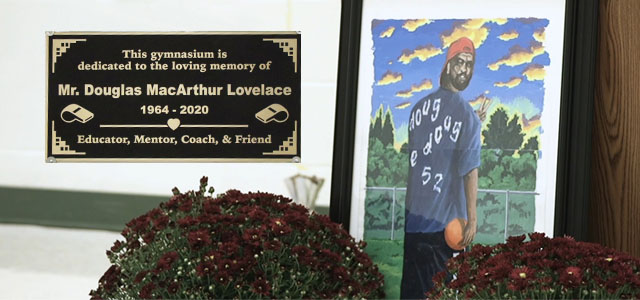 PACE West dedicated their gym in honor of Douglas MacArthur Lovelace on September 24, 2021. Lovelace, or "Mr. Doug" as his students affectionately called him, was a special education teacher as well as a basketball and kickball coach at the school for over 20 years. Lovelace passed away on September 25, 2020.
The dedication ceremony was attended by PACE West staff and students, as well as Superintendent of Schools Dr. LaTanya D. McDade, Division leadership, and members of the School Board.
Tyrone Matthewson, a school psychologist and co-coach of the basketball team, shared his sentiment of his former colleague, "When I look across this room, I see many people who have been influenced by Doug. For example, his ability to mentor and lead others is what I see in Mr. Adrian; his ability to listen and be present in the moment is what I see in Mr. Jason; and in Colleen and Doug, Jr., I see the ability to love and care for others with unwavering resolve. Doug exemplified all those things, and now all those things are in all of us. That is a true definition of a legacy."
In addition to his years as a teacher and coach at PACE West, Lovelace was also a healthcare supervisor at NOVA Training Center for 15 years.