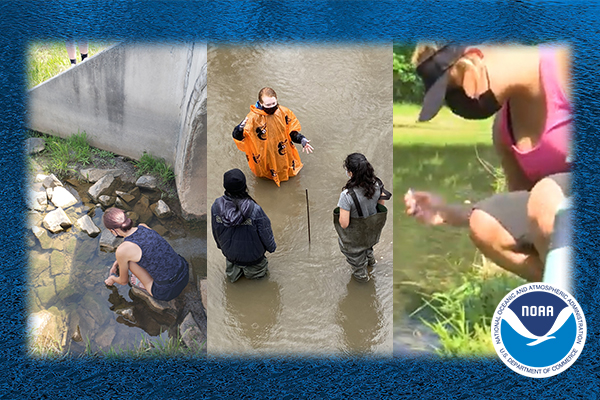 In conjunction with professor Dr. Cindy Smith from George Mason University, three PWCS students participated in the Mid-Atlantic Marine Debris Summit and gave a presentation titled, "A Community Approach to Reducing Single-Use Plastic Beverage Bottles in two PWCS High Schools," to an audience of veteran researchers and advocacy specialists in a virtual conference sponsored by the National Oceanic and Atmospheric Administration (NOAA). Ashley Munoz-Trujillo and Stephanie Ruiz Molina, both senior students at Freedom High School, and Elizabeth Short, a senior student at Patriot High School, fielded questions about their experience creating social media campaigns and what they have found are the best ways to connect with today's youth on being a responsible environmental citizen.
On presenting to experts in the environmental field, Munoz-Trujillo stated, "I was extremely nervous presenting as it was the largest audience I've ever spoken in front of. With the support of my teacher and friends, it went over smoothly. [Through this experience] I learned so much and overall enjoyed the experience. Hearing what others [in the field] are doing was also very inspiring."
All three students are participants in a two-year project that plays an important role in conducting research and relaying their findings to their peers. As part of the first year of the project, Molina, Munoz-Trujillo, and Short worked on collecting data, creating social media campaigns, and discovering barriers to the call to reduce the use of single-use plastic bottles.
The presentation was on the students' community approach toward reducing single-use plastic beverage bottles in both Freedom and Patriot High Schools. They served as both presenters and panelists, sharing what their experiences have been thus far with the project. One of their findings from their data collection was that between the two high schools, more than 10,000 single-use plastic water bottles were used per week.
The three seniors devised an approach on how to use social media to call their peers to action to reduce their plastic water bottle use. Dr. Jessica Doiron, CENS coordinator at Freedom High School stated, "The students observed which platforms of social media were used the most by their peers, and determined that TikTok, Twitter, and Instagram were the three most popular platforms. They created TikToks encouraging students to use reusable water bottles and shared Twitter and Instagram posts demonstrating the importance of reducing the use of single use plastic bottles and recycling."
At Freedom High, students have the opportunity to apply to the Center for Environmental and Natural Sciences (CENS), a specialty program unique to the school. CENS is a rigorous four-year program designed to include strong laboratory and field investigation components. The mission of CENS is to promote environmental citizenship through challenging hands-on collaborative experiences, and these three students have embraced that through their collaborative efforts with NOAA.