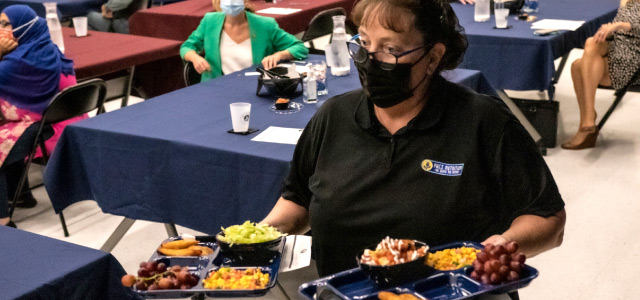 Virginia Governor Ralph Northam created the Task Force on Culturally Inclusive School Meals and Calendars to identify best practices for implementing cultural and religious-inclusive school meals and school calendars to accommodate the many diverse cultures in Virginia. The task force, chaired by Atif Qarni, Secretary of Education, delivered its recommendations during a luncheon at Beville Middle School.
The PWCS Food and Nutrition Services team prepared a culturally diverse meal for the task force to enjoy while at Beville Middle .
Northam shared with those in attendance, "We recognize and embrace diversity, and it's that diversity that marks us who we are."
According to Secretary Qarni, "School divisions and higher education institutions have the opportunity to be more inclusive in the meals they serve and holidays they recognize."
"The task force has outlined recommendations to promote expanded meal offerings and recognize religious and cultural holidays that bear significant importance to many students in our classrooms, even if they may not currently be acknowledged on school calendars," shared Secretary Qarni.
Beville Middle seventh-grader, Sadia, also spoke and gave her perspective on culturally inclusive meals and the school calendar.
Read full report with task force recommendations