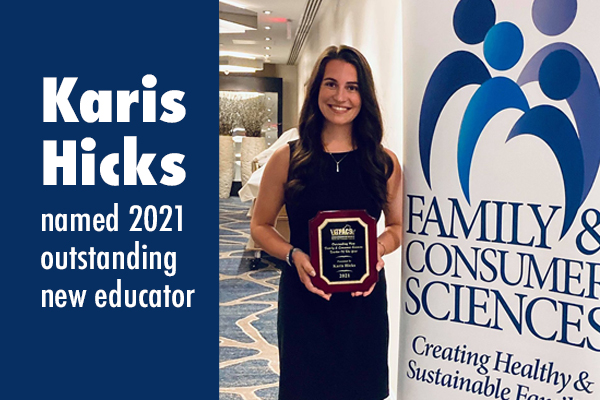 The Virginia Association for Teachers of Family and Consumer Sciences (VATFACS) has selected Karis Hicks, family and consumer sciences (FACS) teacher at Gar-Field High School, as its Outstanding New Teacher of the Year for 2021. In 2018, after earning a bachelor's degree in family and consumer sciences and teacher licensure from Liberty University, with a minor in family and child development, Hicks joined the educational team at Gar-Field High. She also serves as the school's lead culturally aware and responsive educator, in which she provides cultural awareness and anti-racism training to staff.
Hicks shared that one of her favorite educational strategies to use is that of a "class family meal." "During our family module in individual development, we arrange the classroom tables in one big table style, make something simple like pancakes and eggs, then as a class we share a meal together. I feel that this has been successful in student learning because it presented a tangible experience of connection as a class 'family' to show how families can connect over a meal at home."
As the FACS nutrition, wellness, and individual development educator for grades 9-12 at Gar-Field, Hicks plans engaging and standards-focused lessons and activities that she offers in the five high school elective classes she instructs each year to approximately 150 students.
"Ms. Hicks is an outstanding educator who is well-deserving of this award," said Matthew Mathison, principal of Gar-Field. "She is an exemplar for building relationships with students and using her passion for family and consumer science to engage students. Ms. Hicks makes an impact beyond her classroom by inspiring all those she interacts with. Her energy and positivity promote a caring school climate and are felt throughout the Gar-Field High School community. Congratulations, Ms. Hicks! Your Gar-Field family is very proud of you!"