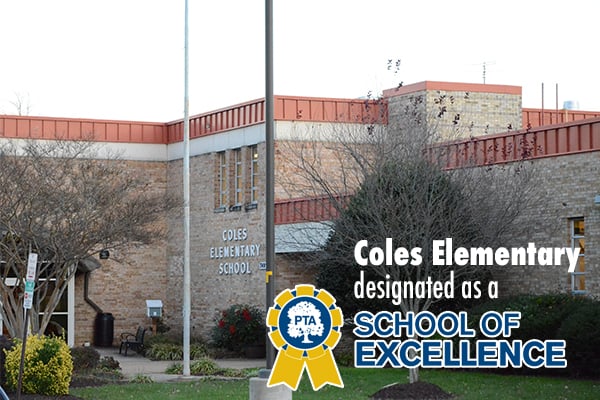 The National PTA has recognized Coles Elementary School's Parent Teacher Association (PTA) as a school of excellence. The benefits from the recognition will allow the Coles Elementary PTA to continue its efforts of enriching the educational experience for students, staff, and the community.
The National PTA school of excellence program provides resources that assist school PTAs with making data-driven decisions through identifying and implementing action plans that facilitate school improvement. The additional resources will aid the Coles PTA with increasing their support efforts.
Megan Urbaniak, the Coles PTA grant coordinator, said, "This recognition is amazing for our PTA members, volunteers, teachers and staff, and acknowledges our ongoing efforts. The true award is to be able to continue to support our school and the needs of our students."
The Coles PTA has long provided support for students and staff by raising funds for the school to use for additional technology purchases and educational clubs. The association also hosts events such as the back-to-school barbeque, the Monster Mash science, technology, engineering, art, and mathematics (STEAM) night, and a year-end carnival. The events are a way to bring together the school community. Principal Kathryn Forgas said, "The members of the Coles PTA are great supporters of learning. All of the work they do to help our students, teachers and staff makes our community stronger."
In the summer of 2020, the PTA received a grant from the National PTA that was used to provide emotional support backpacks for approximately 430 Coles students. The backpacks included login information for Go Zen, an online program that teaches students research-based coping, resilience, and happiness skills in an engaging format. Also included were tools for practicing coping skills such as a bottle of water, a squish ball and a balloon for breathing practice, a workbook of educational activities, and a note from Heather Mainwaring, the school counselor.