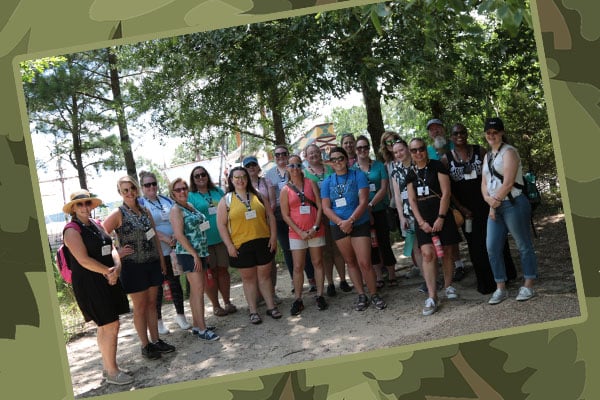 Sheri Huret, a fourth-grade teacher at Pennington Traditional School, is bringing new knowledge and experiences to her classroom this year, thanks to her involvement in the 2021 Jamestown-Yorktown Foundation Summer Teacher Institute. The program held at Jamestown Settlement, a museum of 17th-century Virginia, emphasized authentic learning activities, including interactive, inquiry-based methods of teaching American history.
"I first heard about the Jamestown-Yorktown Summer Teacher Institute from my coworker in fourth grade, Erin Hara Anderson, who participated in it many years ago and has always encouraged me to apply if I got the chance," said Huret.
A major component of the program was the opportunity for teachers to develop project-based assessments and collaborate with other teachers and history professionals. Specific activities included immersive tours of the Jamestown Settlement's exhibition galleries and outdoor living-history areas, academic presentations, and lesson development workshops.
"The extensive knowledge I gained about these three cultures, along with the interactive experiences we participated in, will forever alter and enhance the way I teach about how each culture survived and tried to maintain their own power in Virginia," said Huret. "I have many props and pictures from the Institute to show my students how each culture used different materials to essentially make the same tool."
Huret is the second Pennington Traditional School teacher to participate in the program. With outstanding reviews of the program, a third member of the teaching team is expected to apply for next summer's institute.
"I would highly recommend that not only 4th grade teachers attend, but also district curriculum developers in charge of writing the curriculum guides for 4th grade Social Studies," said Huret. "I enjoyed the program so much that I plan to apply for the Yorktown Summer Teacher Institute for the summer of 2022."
For more information about Jamestown-Yorktown Foundation education programs, please visit the program webpage.