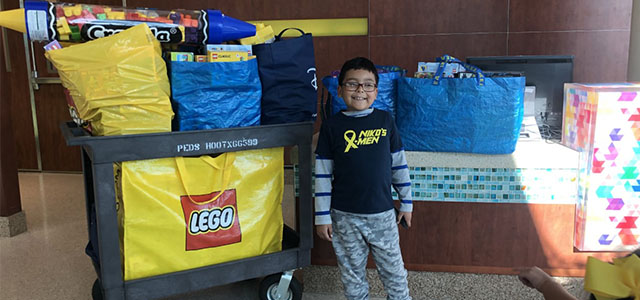 Childhood cancer affects one in 285 children before the age of 20 and September is Childhood Cancer Awareness Month in PWCS. For the Haymarket Elementary School community, it's personal. This is the school's fourth year holding its Childhood Cancer Awareness LEGO® Drive to support Inova Children's Hospital, thanks to the efforts of the Chavarriaga family.
"We have been doing a Lego drive since I got here in support of Children's Hospital," said Scott Baldwin, principal of Haymarket Elementary. "Niko, a childhood cancer fighter himself and a student here, helps his parents organize this drive each year!"
The family kicks things off with fun collection boxes in the school lobby and the school helps share the news far and wide via the
Haymarket Elementary website
and
Facebook page
. The drive brings in LEGO® toys geared for all ages and levels. Donations come from friends, families, and the school community.
"Our children are the future, and hundreds are diagnosed every day, yet they are still being given the same medications used 20+ years ago," said Karla Chavarriaga, Niko's mom. "Only 4% of funds are allocated toward research for our precious kids. Our Lego Drive strives to bring attention to this issue, while bringing smiles to those spending holidays, birthdays, and extended stays at Inova."
Niko was diagnosed in 2017 with leukemia, not long after beginning kindergarten at Haymarket Elementary. He had very long stays in the hospital, the first of which began in the emergency room the day he was diagnosed. After three and a half years of treatment, he has been in remission for 10 months. Niko himself came up with the idea of being able to give LEGOs to the other kids on the floor who were spending long stretches of time at the hospital. He knew how much it helped him and he wanted to do the same for others.
"During our long stays he didn't have the energy for much," says Chavarriaga. "We would read, sculpt with clay, but mostly he loved to build with the LEGO bricks we would bring from home or the ones we would borrow from the hospital playroom. LEGO helped the time go faster and kept his creative mind and fast fingers working."
The current record, from 2020, is 275 LEGO sets collected. It earned Niko a resolution from Senator John Bell and an invitation to the Capitol in Richmond, where he was recognized for his efforts to spread awareness about childhood cancer and bring smiles to the faces of many children like him.
The Haymarket Elementary School's LEGO® Drive will be collecting into the first week in October. View the
Amazon wish list
for suggested options to participate.