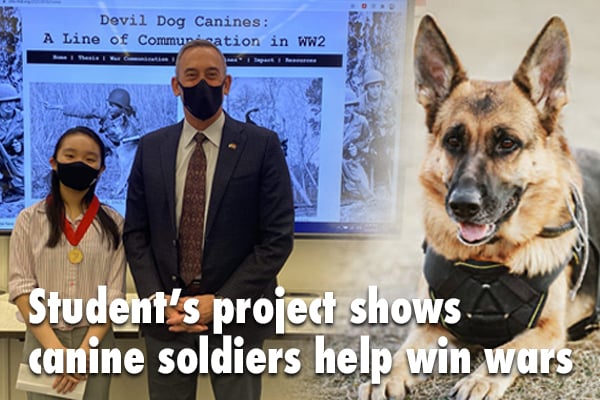 Congratulations to Julienne Lim, eighth-grade student at Porter Traditional School, whose website earned a top spot in the National History Day (NHD) Contest. Julienne placed first in her category at the Northern Virginia district contest, then second in the junior individual website category at the state level Virginia History Day Contest, earning her the right to advance to the NHD National Contest. She attributes her skills in coding and animation to her involvement in school robotics. This knowledge led to her ease and success using the NHD website builder tool on which she produced her project, "Devil Dog Canines: A Line of Communication in World War II."
"As someone with a strong preference for technology, the website category heavily appealed to me," writes Julienne. "I have a background in coding and animation, since I do robotics. My goal was to present clear and coherent information in a nostalgic way; therefore, I used the monochrome effect."
Julienne's research and
resulting website
focused on the important role messenger dogs played in sending battlefield communications in the Pacific Theatre of World War II to support the national theme, "Communication in History: The Key to Understanding."
"The work of these four-legged heroes resulted in enormous contributions to multiple victories of the United States and its allied countries during World War II, and to the improvement of war communications," she writes.
Similar to a science fair, the NHD competition encourages original research that begins at the local level, but for history. Student projects can progress from local to a state contest and, during the summer, culminates at the NHD National Contest.
The Virginia Museum of History and Culture (VMHC) sponsors the
Virginia History Day Contest
, the state affiliate of NHD. Students participate in the program by selecting a topic in history they are interested in, connecting it to the annual NHD theme, conducting primary and secondary source research, and presenting the findings in one of five forms: documentary, exhibit, performance, website, and paper.
Julienne also received the United States Marine Corps History Award, which is sponsored by the Marine Corps Heritage Foundation and is awarded to an outstanding entry that demonstrates an appreciation of Marine Corps history.