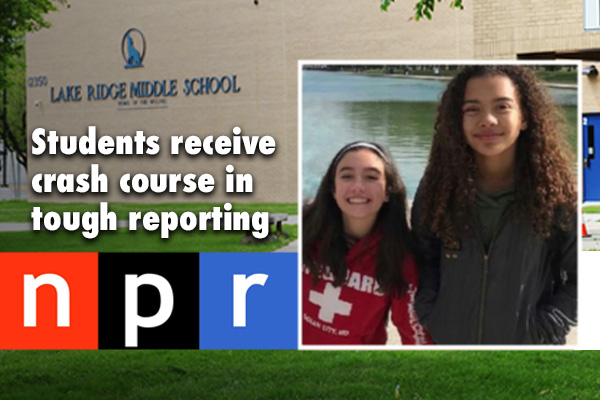 This past summer, Alessia Matory, ninth grader at Woodbridge High School, and Zoe Mendis, ninth-grade student at Forest Park High School, worked with Jenna Conner-Harris, their former gifted education teacher at Lake Ridge Middle School, on a project with National Public Radio (NPR).
Conner-Harris proposed the project to Matory and Mendis after the students' many requests to remain challenged over the summer break. The girls worked diligently reading, researching, and practicing journalism skills to prepare for an author interview they had been invited to conduct with NPR reporter and editor, Malaka Gharib. NPR was looking for "two savvy students in middle school" willing to read a new book on a short deadline. Matory and Mendis then interviewed Charles Kenny, author of a new book targeted to 12-15 year olds, or 'Gen Zers,' as the article calls them.
"I am so utterly proud of them," said Conner-Harris. "Digging deeply into a fully optional assignment within days of school being out, conquering a 210-page book, writing and refining and cutting down questions, working with a professional organization like NPR, and following it through with their interview. They have been working closely with me, doing a crash course on how to read, write, dress, and present themselves in a professional manner."
Kenny is director of technology and development and a senior fellow at the Center for Global Development. In his book, "Your World, Better: Global Progress and What You Can Do About it," Kenny suggests that, with the exception of the environment, society is on a positive trajectory, moving forward and evolving for the better. And while Gharib had final editorial rights to the article, she indicated that the students wrote and asked Kenny tough, challenging questions from differing points of view and research perspectives, leaving very little left for her to do except write the article's introduction and conclusion.
The resulting NPR article,
"Two 14 year olds grill an author about the future of humanity,"
demonstrates the passion and thoughtful maturity Matory and Mendis put into their project. They did not shy away from direct inquiry. Their questions show true commitment to considering author motive as they looked at how topics raised in the book may impact the future of society and our world. For example, they asked Kenny whether he sees their generation as too sensitive on social justice issues, and if he thinks people are "hardwired to assume the worst when it comes to grand social issues."
Ultimately, Kenny demonstrates that it is students like his interviewers who give him hope for the future. By turning the tables and asking them what issues they think will be important 20 years from now, he points to Mendis' reply as she speculates that, in the future, education, and history in particular, will likely be taught from a variety of viewpoints, rather than only that of the victor.