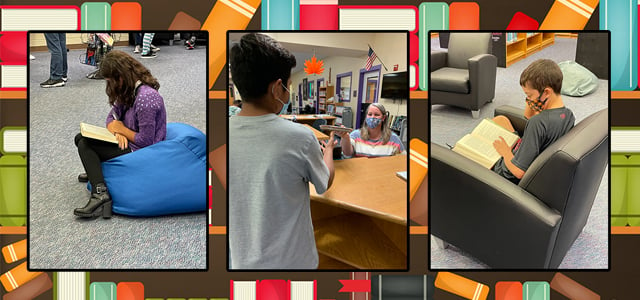 Before, during, and after the school day, the Benton Middle School library has a steady stream of visitors. This is due in part to the innovative activities that library media specialists, Amanda Babcock and Diane Stinson, coordinate to make the learning space more engaging for students.

On the back wall of the library, a white magnet board with various words attracts guests. This is the poetry magnet board, one of the innovative activities that add to the fun, educational atmosphere in the library. The poetry magnet board encourages students to leave inspiring messages for themselves, their peers, or the Benton Middle staff.

"We've witnessed students leaving notes of positivity as well as feelings and thoughts. We wanted to give the students a voice and a safe outlet to express themselves. The poetry magnet board satisfies this vision," shared Babcock.

At the start of this school year during library orientation, students took a "What's your genre?" quiz. Based on their answers to a series of questions, students were matched with a "reader's personality." In the quiz, there are up to 12 possible personalities that match students with reading genres that they may find more interesting.

Stinson explained, "Students were each given a bookmark about their reader's personality that summarized the personality, listed pet-peeves of the personality type, and it suggested genres that may interest them. They also received a list of books in the Benton library that matched the genres and personalities."

Seventh grader Sebastian Villanueva has enjoyed reading non-fiction books, but the results of the quiz suggested that he may be more interested in action and adventure books. He was surprised by the results and appreciated the library media specialists offering the quiz. "It's very nice of them to help people learn, read more, and expand their minds," he said.

The results of previous reading personality quizzes suggested that Joseph Carpenter, also a seventh grader, would be interested in books about science, technology, engineering, and math (STEM), but he didn't believe those results. He explained, "The "What's your genre?" quiz involved more thinking outside of the box, which I liked, so I think it's more accurate." He received the same results, which inspired him to take a break from historical fiction and biographies about historical figures and check out some science fiction books.

"I think it's really great for people who may not know what their interests are, or they just want to try something new. Maybe, it just gives them the chance to read different books from what they are already reading," Erin O'Loughlin, a seventh grader, added.