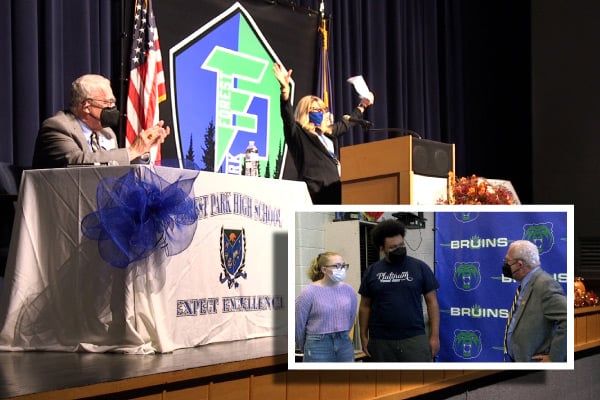 Forest Park High School's senior class had a unique opportunity to welcome, listen to, and speak with sitting Congressman Gerry Connolly. Connolly has been a longtime friend to the Forest Park High community, attending many events including the annual suicide prevention walk, and was enthusiastic about coming to discuss what mattered most to the students.
Connolly fielded questions from students on a wide range of topics from refugees to gun control. He also spoke to students, encouraging them to take action in the community.
One student asked Connolly to describe life as a congressperson, to which he responded, "It's a labor of love."
"Young and prospective voter's voices are just as important as anyone else and they need to be heard and represented," shared Connolly. "I love interacting with young people. They're candid and not impeded in asking the questions people really want to ask."
Senior Malcolm said, "I felt this was a very educational experience. It was insightful to see and talk to the congressman face-to-face."
"I think it's important for students to be involved in government because it's important to understand how it works or what they can do to change things," shared senior Dejah.
Shannon Geraghty, social studies teacher at Forest Park, worked with her colleagues in the social studies department to plan and host the visit. They hope this is the first of many "Democracy in Action" visits from local government officials.