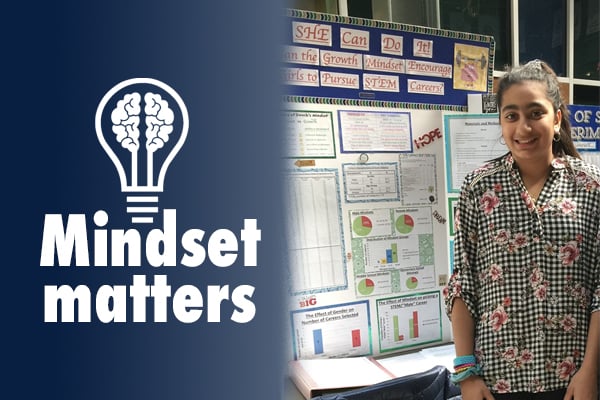 "If your dreams do not scare you, they are not big enough." From an early age, this quote by Ellen Johnson Sirleaf, Africa's first elected female head of state, inspired Charles J. Colgan Sr. High School freshman Rania Lateef to push herself to succeed. It was through her success in math and science competitions that she began noticing a trend; she was often the only female competitor.

"I knew I could not be the only girl who was able to love and excel at science, technology, engineering, and math (STEM) - now I just needed to figure out where the rest of the girls were," said Lateef.

Lateef credits her Marshall Elementary School teachers along with Benton Middle School science teacher, Debra Peterman, for inspiring her to create the science fair project that eventually led to the study of growth mindsets. The Journal of Emerging Investigators recently published the study co-authored by Lateef and Peterman.

Her curiosity led her to develop a study focused on whether mindset could affect a student's future career choices and whether this effect differed based on gender.

In the study, Lateef found that in a growth mindset, people believe that their most basic abilities can be developed through dedication and hard work, while a fixed mindset assumes that a person's character, intelligence, and creative ability are static givens.

"I found that girls who had a growth mindset were much more likely to consider future STEM careers compared to girls who had a fixed mindset," said Lateef. "I was stunned because some of these girls [in the study] were very young and only in elementary school."

"It is important to instill academic self-confidence in students, especially young girls, when it comes to tackling fields like science because historically these areas tend to be male-dominated," said Peterman. "Sponsoring young Benton women, like Rania, shows our students that you can achieve your goals if you really believe in yourself and your work."
Read the published study "Can the Growth Mindset Encourage Girls to Pursue "Male" Careers?" on the Journal of Emerging Investigators website.