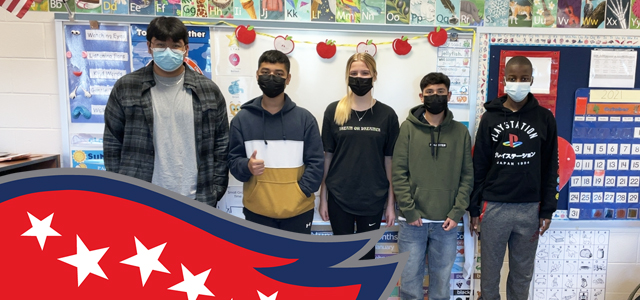 Five students from Patriot High School's first pre-k class have now returned as high school freshmen. This surprising discovery was made by family and consumer science teacher and department chair, Amber Tiernan, in her Independent Living class, a class designed to help students establish "life-ready" skills such as exploring career interests, learning about paystubs, taxes, and more. As their first assignment, students were asked to create a Life Map, detailing milestones in their lives from their time as a child to present-day.
Freshman Shana Humphreys added attending Patriot High as a preschooler as a milestone in her Life Map. Upon asking her more about that milestone, Tiernan discovered that Humphreys was part of the preschool class of 2011.
A total of five students who attended Patriot as preschoolers have returned as freshmen this year, Bernard Etienne, Shana Humphreys, Aldair Ponce-Rojas, Giancarlos Quiles-Soriano, and James Ramirez-Vera.
Humphreys shared, "I can't say I remember a lot from preschool since it was years ago, but I can say that I remember walking with [teacher assistant], Ms. Denham one morning down to the cafeteria to put our trays away and seeing a bunch of cool older kids made me realize, I get to be one of them someday!"
To bring things even more full circle, preschool teacher Melissa Van Wassen, and her teacher's assistant Susie Denham, who opened the school in 2011, are working at the school today.
When asked about how it felt to see the students that she taught 11 years ago return to the school as young adults, Van Wassen shared, "We were truly excited to learn that we had five students as freshmen here at Patriot that attended our first pre-k class in 2011! As these students' first teachers, we provided them with meaningful experiences and a foundation for future learning. Now as freshmen at Patriot, we are excited as they continue to grow and develop as lifelong learners."
Preschool activities can help children grow mentally, socially, emotionally, and physically. The preschool program at Patriot is part of the Virginia Preschool Initiative (VPI). Patriot serves five different elementary schools in the surrounding area. To participate in the program, the student must be four years old before September 30, the student's family must meet income guidelines, and live in a school attendance area served by the program.
The School Division offers free preschool programs through state and federal grants. To apply for the next school year, please visit the
Preschool Programs webpage
for more information.