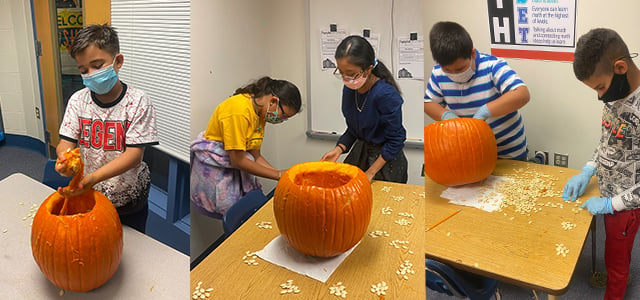 Alyssa Harris, math resource teacher at Featherstone Elementary School, had a special treat for students with pumpkin math day. Students worked on increasingly difficult math problems based on their grade levels.
Some of the concepts students worked on included estimation and number sense, addition, subtraction, multiplication, and division. Students were asked to guess how many seeds were in the pumpkin, and then produced a new estimate once the top of the pumpkin was cut off and they could see inside.
Students also estimated and measured the circumference of pumpkins in inches. Harris posed a ratio table number sense problem about how much the pumpkins cost. For example, two pumpkins cost $10, how much for four, eight, 10, and so on.
Using everyday items such as pumpkins and seeds helps students see the relevance of math in their everyday lives. and engages them in mathematical thinking through activities they enjoy.
"When students are enjoying what they are doing, their confidence increases and they are more willing to take risks and try more difficult math," shared Harris.