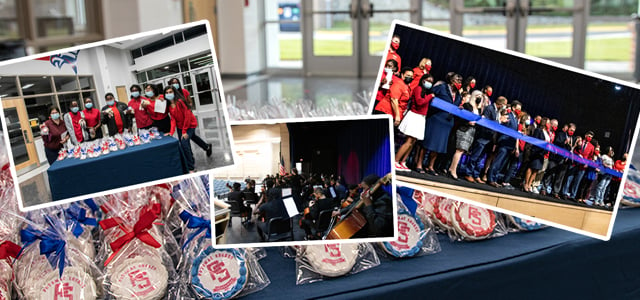 Students, teachers, staff, and community members recently celebrated the opening of the 17th middle school in Prince William County during a ribbon-cutting and dedication program. Potomac Shores Middle School, the beautiful, state-of-the-art school designed by Moseley architects, is in the Potomac District, serving students in sixth through eighth grade.
Principal Joe Murgo hosted a reception in the school's cafeteria, which is located next to the courtyard.
During the ceremony, speakers shared their praise for Murgo and spoke of their excitement for students and staff at the new school.
Superintendent of Schools Dr. LaTanya D. McDade shared, "I am excited to witness how Potomac Shores Middle School students will positively impact the future of our community, our nation, and our world. Mr. Murgo, I want to congratulate and thank you, and your team, for all the hard work in successfully launching the school with such a positive culture. Launching a new school requires an incredible amount of challenging work, and to do so during the pandemic is an even more remarkable feat. I wish you and your team a great school year."
School Board Chairman At-Large Babur B. Lateef, M.D., said, "Both inside and outside the classroom, students have access to a state-of-the-art facility and grounds. With over 60 classrooms, students have many opportunities to gain knowledge, pursue their academic interests, and challenge themselves. Whether it is a foreign language, an art or a music class, students at this school are empowered to take an active part in their learning experience."
Eighth grade choir students Haran Gashaw and Madison Strange started the ceremony with the National Anthem under the direction of Andrew Kerper, as well as an impactful Presentation of Colors by Potomac High School's NJROTC, under the direction of Lt. Cmdr. Debra F. Rogers. Another student performance followed, with the Potomac Shores Middle School orchestra performing a poignant song, "The Grotto," under the direction of Amy Ruhlman.
After Murgo finished cutting the ribbon for Potomac Shores Middle School, he invited guests to join a tour of the school, which included stops at the extended learning/collaboration areas and unique makers spaces located on each floor.
Potomac Shores Middle School's school colors are red and navy blue. Their school mascot is the Seahawks.