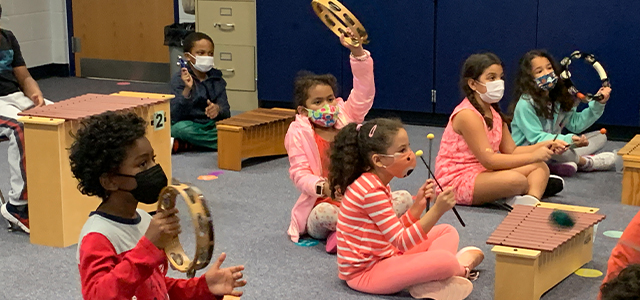 "Oh xylophones!" a student exclaimed with delight as he entered the music classroom at King Elementary School. The excitement of playing a musical instrument was not the only highlight that made this day in music class fun, a virtual field trip to the Hylton Performing Arts Center (HPAC) also kept students engaged.
The HPAC's "Songs of Streets and Sunshine: Brooklyn with Dan and Claudia Zanes" virtual field trip is proving to be an excellent teaching resource for Dawn Williams, King Elementary's music teacher.
"The videos from the Zanes do a great job of including movement, singing, and playing parts that the students can learn and do with each song. They fit perfectly in with what we are learning in second grade," Williams explained.
The xylophone was not used by the Zanes in their performance; however, the structure of their songs made it easy for Williams to incorporate the xylophone along with unpitched percussion instruments into lessons about beats, rhythm, and harmony.
The Zanes' HPAC virtual performance includes seven educational videos for classroom teachers. Before performing each song, they provide background information about the music. Williams appreciates this addition, "Being able to connect what we're learning to the real world helps engage the students in a way that is meaningful."
Grammy-award-winning musician Dan Zanes and his wife, Claudia Zanes, a jazz vocalist, are well-known in the realm of family music. When the pandemic canceled live musical performances, living under the same roof was an advantage for the Zanes. It made it easy for the husband-and-wife duo to continue sharing their music.
"When we figured out the technologies, it became exciting to have the chance to reach people all around the country without the time and money needed to travel. Our ability to connect with audiences increased and our need to put on shoes decreased," the musical couple explained.
Marit Majeske, HPAC education coordinator, shared, "We strive to offer opportunities that may not otherwise be available to teachers through engaging with our Hylton Presents and Hylton Family Series artists and other professional local and national artists. We hope that this enhances the outstanding work being done by PWCS teachers."
Registration
is required for participation, but this virtual field trip is free for elementary school teachers.