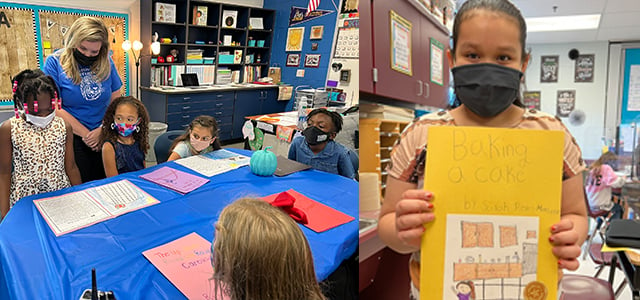 The long-anticipated day by students and staff at Covington-Harper and Ellis Elementary Schools had finally arrived. Authors' Celebration Day was here, and students were proud to share the book that they had written, designed, and illustrated.
The excitement for the day was palpable. Students were dressed up in their elegant outfits fitting for this momentous occasion; today they could read their personal narratives aloud to their classmates, as well as special guests such as the school principal, assistant principal, and more. Diligently working on this project for the past eight weeks gave students a special sense of ownership and pride in their work. In some cases, this writing project even changed some students' outlook on writing.
"I have seen kids not excited about writing at the beginning of the year, but after this project share that they love writing," said Amy Hartz, a fourth-grade teacher and lead mentor at Ellis Elementary. "By telling them that they're real authors, and we're going to have this authors' celebration and share our books with special guests, that's a big motivator; when they know that somebody else is going to be looking at their writing, they want it to be perfect."
Following the writing curriculum for their grade level, students began the writing unit with a brainstorming session to produce ideas for their story. "We are working through the writing process and teaching the kids how to brainstorm first. Then, we walk them through different strategies they can use [to brainstorm] depending on what kind of genre they are working on," said Hartz.
Once the students decide on the topic they want to write about, they move into the drafting stage of the writing process and create a rough draft of how they want their story to flow. Hartz shared, "We then move into the revising stage, and focus on 'mentor texts,' or reading works by other authors and study different writing styles to bring some of the elements they use into our writing such as, 'how did Patricia Polacco bring in dialogue between her characters to show how they were feeling?' and how can we try that in our writing."
Camille Deal, a third-grade teacher at Covington-Harper Elementary, who taught at Ellis last year, adopted the writing celebration and implemented it at Covington-Harper this year. "Every day, I would remind the students that the celebration was coming up and to be prepared to share their stories with our special guests. Students stood up confidently to read aloud to the group," shared Deal.
Even though now at different schools, both Deal and Hartz were able to make the writing process fun and connect students from beginning to end to their work.