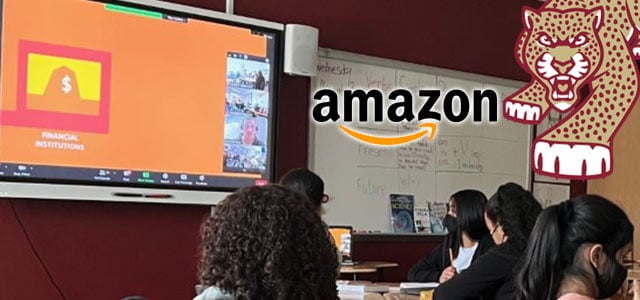 What happens when you combine Amazon Web Services and Unity Braxton Middle School students together? An inside look at the direction the technology industry is headed, and the booming future career paths available in that sector. At Unity Braxton Middle, students had the unique opportunity to learn about careers in technology from employees in the technology sector.
Students in all grade levels tuned in to a virtual presentation given by Amazon employees about cloud computing and data centers. Cloud computing is accessing and storing data using the internet, which in turn is stored on servers that can be found in data centers and buildings used to store computer equipment.
Amazon Tech Day presentations served to inspire and make students aware of opportunities in the fast-growing areas in the field of technology. The first presentation was titled, "An Introduction to Data Centers," and explored different data center careers. The second presentation was, "An Introduction to Cloud Computing," and went through how cloud computing works, and a potential career for someone in cloud computing could be coding. Other careers in technology include data technicians, data scientists, network specialists, and computer engineers.
Community engagement manager for Amazon Web Services, Wilberte Paul, gave the sixth-grade students a presentation on, "An Introduction to Cloud Computing," while her two colleagues, Jonathan Nave, and Jason Steadman, data center operations managers, gave a presentation on, "An Introduction to Data Centers," to students in grades 7-8.
As an International Baccalaureate school, Unity Braxton strives to connect students' education to the outside workplace, and thus Principal Mike Nicely decided to offer this presentation to all grade levels to expose students to careers in the growing technology sector.
Eighth grade student Fanny Viera Reyes enjoyed the learning experience sharing, "It was exciting to hear from the Amazon representative and learn about data centers. We learned many new things. It is interesting how they [Amazon] expand the company. Then, we created groups to discuss benefits and challenges of large data centers. It would be great to do it again because I like learning about new things."
Afterward the Zoom presentation, there was a short question and answer session, followed by student activity that went along with the presentation.
Eric Simenauer, school counselor at Unity Braxton, shared, "All the students asked a lot of really good questions, particularly the eighth-grade students-Amazon is one of the most dynamic companies on the planet, and Unity Braxton Middle School was thrilled to partner with Amazon Web Services for this event, and help our students prepare for the workforce in the 21st century."