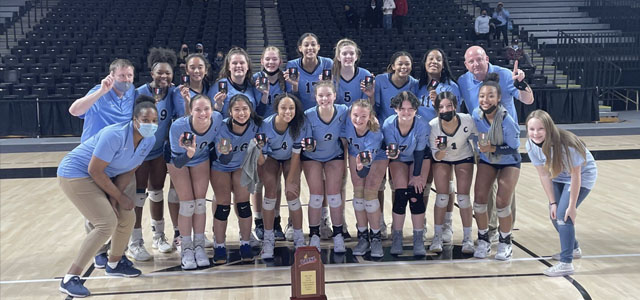 The Virginia Class 6 volleyball state championship marked a momentous occasion for the Charles J. Colgan Sr. High School girls varsity volleyball team as they became the victors of the hard-fought game, bringing home the state title. The Colgan High Sharks faced the hard-hitting Herndon Hornets from neighboring Fairfax County Public Schools at Virginia Commonwealth University's Sigel Center in a match up that would be one for the books.
The Sharks went into the state final with a 26-4 record and came out on top winning three of four sets during the big game, making Colgan the first Prince William County high school to win a state volleyball title in 18 years. This would also be Colgan's first state championship since it opened in 2016.
"Coming into the season, I knew we would be competitive and would compete in the district tournament," shared Colgan Coach Keith Mesa. But even he hadn't thought about what would come next. The team soared through the district tournament and went on to only lose one set out of 24 on their road to the championship. It was an impressive showing, to say the least, and with only four graduating seniors this year, Coach Mesa has high hopes for next year as well.