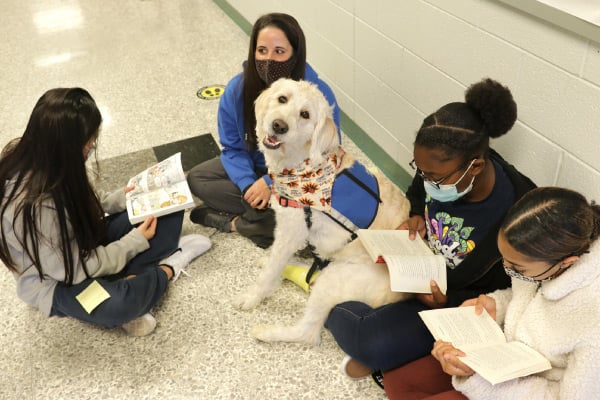 Oakley, a two-year-old labradoodle, knows when she's at Bull Run Middle School-as a therapy dog from
Heeling House
, she gets excited for these visits because they usually mean a lot of brushing, petting, and loving from the students and staff.
The idea of bringing in a therapy dog service was originally a request from a student with special needs and parent four years ago. Recognizing the benefits therapy dogs could have for all students, the Bull Run Middle staff brought in the service for the whole school. They once worked with Dayo, another Heeling House therapy dog and Oakley's brother.
This year, Oakley comes three days a week, visiting classrooms and the school's Wellness Lounge. This number of visits is an increase from previous years because the counseling department saw a greater need for social and emotional health-based initiatives.
"[In a survey,] over two-thirds of our students said they were at least somewhat anxious about coming back to school," said Amy Shelton, Bull Run Middle's director of school counseling. "One way that we wanted to tackle this was to incorporate more services focusing on social and emotional health, so we increased the amount of time that the therapy dog came to school."
During these school visits, students may read to Oakley during class time, play a game with her in the Wellness Lounge, or say hi as she walks by in the hallway or cafeteria. These visits make Oakley's tail wag, but even more so, they make the students smile. Their time with Oakley is a chance to relax and decompress before continuing with the regular school day.
"The highlight for me is just to see the impact she has on so many kids. [Oakley] gets so much happiness from them, too. I just love seeing them interact," said Brittany Mraz, puppy program coordinator at Heeling House.