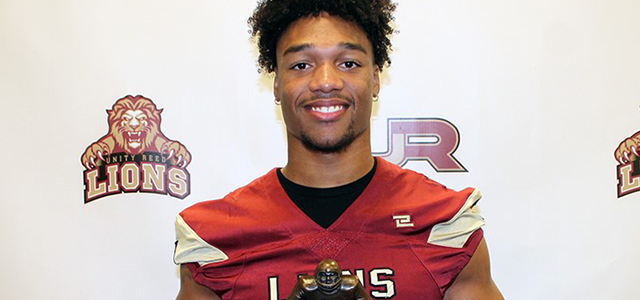 Unity Reed High School senior Shawn Murphy is the recipient for the prestigious Butkus Award® as the best high school linebacker in the nation. Murphy received news he was the recipient of the award in a surprise Zoom presentation by Dick Butkus, the famous linebacker who instituted the award, accompanied by an in-person presentation of the trophy by Butkus's son Matt. Murphy is the only Prince William County Public Schools (PWCS) student to ever receive this award.
When asked what it felt like to wake up and find out he was the best of best in the nation, Murphy said, "It's a great feeling to know that all of my hard work is paying off, and that everything that I'm doing right now to reach my goals is working." Murphy continued, sharing that from his experience playing football for PWCS, he plans to take his effort, intensity, and relentlessness when he plays for the University of Alabama next year.
Murphy served as a four-year starter and as team captain for the Unity Reed football team, which had a successful season finishing 6-6 in the playoffs.
The committee that selected Murphy as the winner had this to share about him, "Shawn Murphy plays the game with the same intent that Dick Butkus once did. Shawn is a knockback hitter with outstanding speed, athletic ability, and range. He has been a force since he stepped on the field in high school, has represented Unity Reed with class and been a pillar of the program. This year's high school class was stronger and deeper than any in recent memory, with many very deserving candidates and a strong influx of future linebackers."
Winners for the Butkus Award® are selected by a committee that "focuses on the qualities that defined Butkus' career: toughness, on-field leadership, competitiveness, football character and linebacking skills."
Murphy has abundantly demonstrated the skills required of a Butkus Award-winner according to Unity Reed head football coach Carroll Walker, who shared, "Shawn Murphy has demonstrated leadership as well as respect for faculty staff members, teammates and coaches."
For more information on the Butkus Award® or selection criteria, please visit their
webpage
.