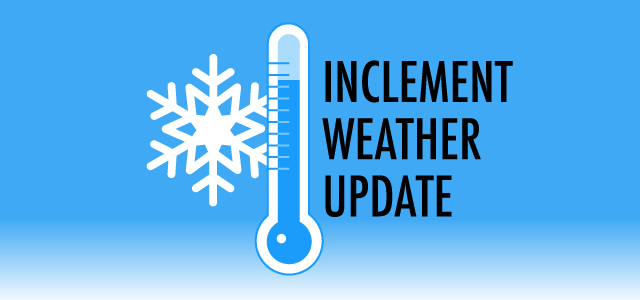 Letter from the Superintendent of Schools
Español | Tiếng Việt | فارسی | 한국어 | العربية | اُردو | 中文 | پښتو
Visit Closings, Delays, And Emergencies page
Dear PWCS Families, Employees, and Community,
Now that we have entered December, winter weather will soon be with us, and we know how critical it is for everyone to be able to plan ahead in the event we must change school operations due to potentially unsafe travel conditions. The safety of our students and staff is always our highest priority when making decisions to change our operations.
It is also abundantly clear the pandemic has impacted student learning significantly, and we must maximize the time available to provide instruction for our students, along with providing the critical services our students receive at school. As such, we want to minimize any closures due to weather and their impact on teaching and learning. We have also made significant investments in technology support for our students, teachers, and staff. These investments have provided the means to deliver instruction and work remotely, even when buildings may not be available for in-person learning.
This year, we are introducing a "Code Orange." This code will be used when weather conditions are marginal and impact road or sidewalk safety conditions but are not so severe as to cause substantial impacts. On such days, buildings will not open. However, employees will work remotely, students will work asynchronously (not live), and teachers will provide posted office hours for students to check-in as needed. This will enable teachers to grade assignments, provide additional planning time, and for employees to attend remote professional development, and business operations to continue.
Code Orange may also be used in lieu of days that in previous years were delayed openings. Due to the ongoing national shortage of bus drivers, PWCS continues to have a number of double and triple bus runs. These runs make it logistically impracticable to have delayed openings.
In the event of significant weather impacts, PWCS will continue to have "Code Red" days (closing all schools and operations). As PWCS may not be able to ensure remote access for all staff or students on days with significant inclement weather, such as outages of utilities required for virtual instruction, the need for Code Red Days will continue when conditions warrant their limited use.
It is the goal of the Division to move to full synchronous (live instruction) in the 2022-23 school year on days when buildings may close. This year will enable employees and students to adapt to working remotely to determine any further improvements or needs for next school year.
Contrary to popular belief, it is important to note that PWCS does not build "snow days" into the calendar. The annual PWCS instructional calendar is 180 days long per the Virginia Administrative Code. When severe weather or other emergency situations close schools resulting in less than 180-days, the days missed don't need to be "made-up," so long as a minimum 990 teaching hour requirement is met per Virginia Code § 22.1-98.
PWCS surpasses the state minimum instructional time requirement based on the length of the school day. As such, PWCS can close for emergencies without the need to add time or days to the school calendar, unless the total time missed falls below the 990 hours.
We will continue to make decisions on delays and closings as many hours in advance as possible, in consideration of families who need time to make proper arrangements. The decision will be made the night before, or in uncertain conditions, not later than 4:30 a.m. on the morning of closing. Please note that communications will follow as rapidly as possible following the decision, via social media, text, and email. Please be sure your contact information is up-to-date in ParentVUE.
For frequently asked questions, and more on inclement weather decisions and procedures, visit the PWCS website. Thank you for your understanding and cooperation as we work to make this a safe and productive winter season for all.
Sincerely,

LaTanya D. McDade, Ed.D.
Superintendent of Schools
Prince William County Public Schools